Arrested Development Spoiler Alert: Season 4 will open with Michael Bluth walking through a set of revolving doors.
So Mitch Hurwitz spilled in a revealing chat with Vulture this week, as the creator talked about reviving the beloved sitcom; meeting expectations; and whether this is the end; the beginning; or the beginning of the end...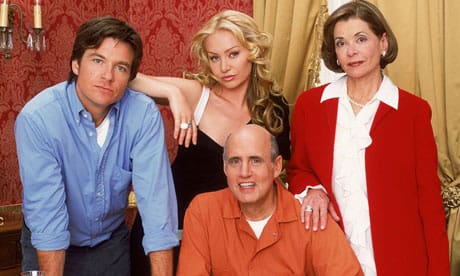 Could there be more than 10 episodes? Our initial order is for 10, but the beauty of Netflix is that we theoretically have an opportunity to provide more material for them. We're definitely shooting some special material just for them. But their whole outlook completely mirrors the ambitions of this show.
Is this a farewell or a new beginning? The episodes are an outgrowth of the design of what we hope will be the movie. They precede it. They function as an act one of a movie that we all want to do, but haven't "sold" yet. The episodes take the audience through the experiences of the characters since the family "fell apart" and how they're brought together to deal with their new problems.
What will the focus of each installment be? Each episode is about a character - but we'll see them in each other's shows.
Is there pressure to meet expectations? We all went back into this because of the devotion of the fans, and a desire to bring some fun to them — and to ourselves. It definitely did start out being somewhat daunting, but I think for all of us we just got back into the groove. Oh, and we have this new JarJar Bluth character so there's no way anyone will be disappointed.
Read the full interview with Hurwitz and check visit our Arrested Development quotes section now.
Matt Richenthal is the Editor in Chief of TV Fanatic. Follow him on Twitter and on Google+.