NCIS Season Premiere Spoilers: 10 Things to Watch For!
Steve Marsi at .
The NCIS Season 10 premiere doesn't air on CBS for another two weeks (9/25), but TV Fanatic was fortunate to get its virtual hands on it already, and we can assure you it will be worth the wait.
It's difficult for any season premiere to live up to a summer's worth of hype, especially following a cliffhanger of this magnitude, but by and large, "Extreme Prejudice" comes pretty close.
NOTE: Minor spoilers ahead! While we don't reveal plot points or details that we think would take away from anyone's enjoyment of the episode, you still might want to turn back now.
Without giving away too much, here are 10 things to expect in the premiere ...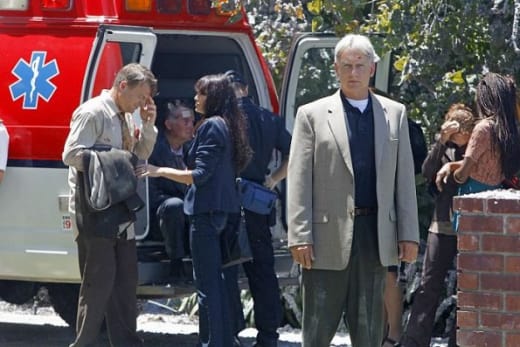 1. The title refers to a euphemism for execution. Playing on the "termination with prejudice" clause used in employment contracts, in military parlance it is understood as an order to assassinate; this is exactly how the President orders the SecNav and NCIS to proceed with the Harper Dearing case.
2. We pick up May 15, 2012, the day of the Season 9 finale, and end on September 25.
3. One of the agents in the building during the blast is light-headed and requires stitches.
4. One of the agents is described as "ripe"; Another is uncharacteristically despondent.
5. Fornell and the FBI offer to take the reins of the investigation from an emotional Gibbs.
6. The elusive Dearing is responsible for two more explosions during the episode.
7. Tony and Ziva's elevator scene(s) don't disappoint. That's all we can say.
8. Post-heart attack, Ducky names Palmer acting medical examiner, but the old man plays a key role later in the episode (the scenes between Jimmy and a hospitalized Ducky are pretty special).
9. Gibbs is seen measuring his basement for reasons unknown.
10. After being flummoxed by his adversary's games, Gibbs hatches a plan to stop Dearing once and for all that Vance reluctantly approves, and leaves the rest of the team gravely concerned.
That's all for now. Follow this link for the first footage from NCIS Season 10 if you haven't seen it, then leave a comment below with your predictions and thoughts on the upcoming premiere!
Steve Marsi is the Managing Editor of TV Fanatic. Follow him on Google+ or email him here.