Fellow Collars, you know I totally had a "Vested Interest" in this week's episode. After all, I made a rather bold claim last week that I thought Sam was Neal's father.
Now that White Collar confirmed it, I can proudly proclaim the following: I CALLED IT!
Okay, granted, so did many of you. Pats on the back all around.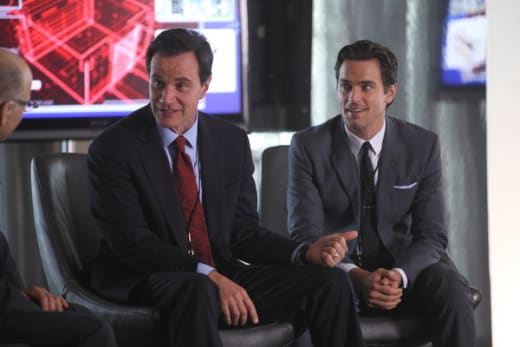 I'd be lying if I said that some of my own suspicions weren't actually based on the fact that Sam and Neal have striking similar heads of hair, although the additional intrigue provided by Sam's desire to not be tracked and his sudden change in attitude toward Neal in this episode only reaffirmed it.
If anything actually gave Sam away, at least for me, it would had to have been his less gruff and stand-offish demeanor this time around. It felt like a complete 180 for his character.
Regardless, the only questions is this: are we happy with that outcome?
Personally, I think the twist of fate will give fans some well-deserved reveals to our most burning questions, even as the revelation will cause us to have even more. Instead of grappling with internal demons that would have likely hounded Neal throughout the course of a more drawn out investigative process, we can get some answers and possibly see some growth.
What interests me is how this might alter Neal and Peter's relationship to have Neal's father in the picture, given that Peter has, for all intents and purposes, fulfilled that role in a lot of ways. Of course Peter and Neal are partners, but I'd also like to think that, in some ways, they view each other as family, even in their most uncertain moments.
Similarly, will Neal's father remain in the picture, or simply provide answers and leave as quickly as he came?
There was also another very fun aspect to this episode in the form of the FBI conference.
While the angst that permeated the opening portions of the episode was expected, I enjoyed how it was eventually resolved, but not without Neal taking aim at Peter in front of a room filled with his peers and other agents.
Other highlights from the episode:
Neal bringing a pet rat into the FBI.
Jones' reaction to the rat in the FBI.
Neal bringing up that Peter "misled" a priest.
Peter fixing the coffee machine.
Jones and Diana teaming up as boss and underling. That sequence was pretty entertaining. They work so well together.
Neal having enough forethought to strap on that vest.
Neal's look when he found out that the man parading around as Sam was actually his father.
Neal not freaking out when Peter presented the possibility that Sam might be one of the bad cops. Very grown up of him.
How did you react to the shocking news? Sound off with your reactions!
C. Charles is a TV Fanatic Staff Writer. Follow her on Twitter.