As I wrote about following the American Horror Story: Asylum premiere, season two of this FX thriller is already far more grounded than the opening run of episodes from last year.
Yes, I use that term loosely, considering we're dealing with aliens, sex-crazed nuns and bloody-faced serial killers here.
But the characters are more fully formed than the family at the center of last season's hijinks, which makes for a far more interesting story - but also a far more dark and disturbing one, as evidenced by "Tricks and Treats."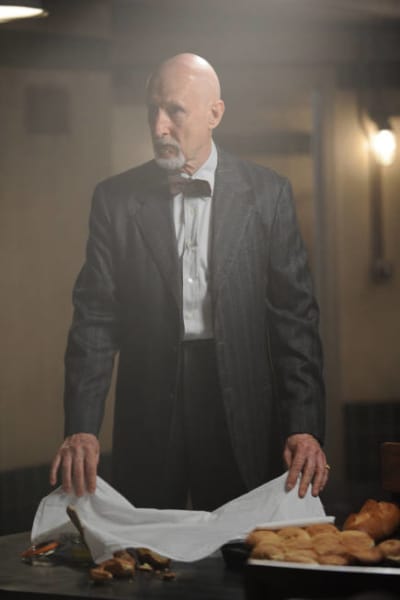 While last year was was enjoyably campy, I was never kept awake at night by thoughts of Leather Man or any general concept of ghosts in a haunted house. It was all sort of vague and silly.
But, man, this Asylum makes far greater of an impact, doesn't it? The ECT on Lana, the lashings on Kit, the notion of being trapped, of being betrayed by your loved ones. These are all taken to the extreme, of course, but there's far more to actually be afraid of this season than last, far more viewers can imagine - in some form - happening in real life than anything we witnessed with Dylan McDermott and Connie Britton.
Take Dr. Arden. Played with brilliant creepiness by James Cromwell, I can't say I actually know any physician quite like him. But it's not difficult to imagine a seemingly serious professional who is all business at work and all frightening play behind closed doors. He abuses prostitutes. He pines for women of the cloth. He is in charge of some kind of diabolical experiment that is resulting in... who the heck knows what beyond the institution's walls?!? It's hungry, that much is  for certain.
He's a terrible doctor, but a terrific character so far.
Elsewhere, the exorcism at the center of the episode helped introduced Zachary Quinto as Dr. Oliver Thredson. It also prompted the sort of debate between science and religion that is still prevalent in some circles today. Is Sister Jude way behind the times, even for 1964?
Clearly. But the show did an effective job here of flashing back to her boozy, accident-ridden past to make it apparent just why she turned to God and just why she wants to feel as in control as she possibly can in this world she's created for herself, one in which perhaps she can erase the sins of her past... in her own unique, over-the-top way. I maintain she has good in mind. She just may not be of sound mind to determine how best to achieve that good.
Jude is haunted. She is full of regret. And she's convinced herself that she can only be absolved if she absolves others, no matter what it takes.
And let's stop for a moment here to acknowledge a couple performances. Jessica Lange is unquestionably outstanding once again as the lead, but Evan Peters and Sarah Paulson are also portraying characters that are total departures from a season ago, making us feel every ounce of pain coarsing through the minds and bodies of Kit and Lana, respectively, along the way.
It's been a job very well done by the stars and the series through two episodes. I'm disturbed but intrigued. I want to know what those creatures in the woods are. I want to know Dr. Arden's grand plan. I want to see how Lana will now fare inside Briarcliff Manor after turning on two inmates here.
I just may do it all with my eyes partly hidden under the covers.
What did everyone else think of episode two?
Matt Richenthal is the Editor in Chief of TV Fanatic. Follow him on Twitter and on Google+.