Drea de Matteo returned to Sons of Anarchy toward the end of Season 4, showing up as a rehabilitated Wendy who wants to play a role in her son's life.
She's since struck up an unexpected quasi friendship with Gemma, while continuing to cause problems for Tara and raise questions for viewers: How much more will we see of Wendy? Is she truly reformed?
The actress spoke with TV Fanatic during a reporter conference call last week and gave us a look into into this troubled mother...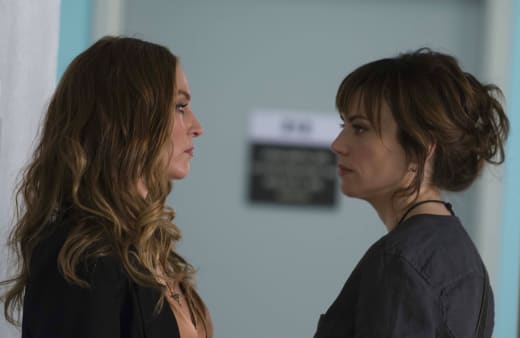 On Wendy's evolution: I think in the very beginning of the series she was extremely, extremely vulnerable. At first she was a mess. Then she was sober and a raw nerve. Now she comes back with her confidence intact and not wanting to stir any ... up except for being a responsible party. It seems that the whole entire world has imploded and she's going to have a hard time maneuvering within it because nobody's stable over there. She's now become the face of stability, which is kind of funny.
On her agenda: I definitely don't think she has any ulterior motives. I definitely don't think she wants to come in there and screw anybody. After all of the treatment she's been through and now becoming a counselor herself, she's probably the healthiest of the bunch.
On who she will side with: Wendy is trying to find a way in but she wants to find the cleanest way in but she considers all aspects. She can't take the high road. She may take the low road. I think she's going to do everything in her power not to. 
Sons of Anarchy airs "Orca Shrugged" Tuesday night on FX.
So whoever's going to provide the cleanest path for her is going to be where she may end up. 
Matt Richenthal is the Editor in Chief of TV Fanatic. Follow him on Twitter and on Google+.