Gossip Girl Spoiler Pictures: Another Finale Bombshell?!
Steve Marsi at .
Ready for another potential Gossip Girl finale spoiler bombshell?
Are you sure you don't want to remain in the dark about this?
WARNING: Seriously, we advise you to turn back now if so.
We good? Nice. Alright. Now, let's get down to the business.
Earlier this week, major Gossip Girl finale spoiler pics hit the Internet featuring Chuck and Blair at what looks like a wedding ... with what looks like the police dragging him away immediately after.
We have no idea if it's a dream sequence or what, but follow the link above for the images in question and share your theories with us. Is this the fairy tale ending Chair fans have been yearning for?
As if that weren't enough to talk about, that may not be the only wedding involved in the December 10 finale: Blake Lively wore what looks like a wedding dress alongside Penn Badgley on Tuesday!
With Taylor Momsen and Connor Paolo back on set, could it be that Dan and Serena are taking the plunge as well as Chuck and Blair? Or is there another explanation for the images you see below?
Some have hypothesized that these are all "foilers" a.k.a. fake spoilers designed to throw crazed fans off the trail of what really happens, though that seems awfully elaborate. What do you think?
Take a look at the alleged Derena wedding pics and comment below!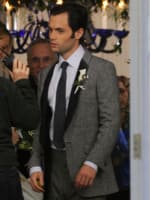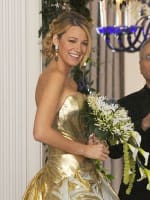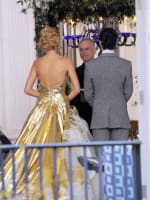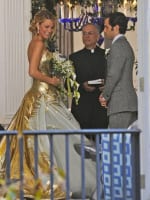 Steve Marsi is the Managing Editor of TV Fanatic. Follow him on Google+ or email him here.