Grey's Anatomy aired its second episode of the season with "Remember the Time," an installment that jumped back in time to right after the fatal plane crash and the days after. Although I knew it was coming, I was totally not prepared for it.
How much more tragedy can these doctors take? Seriously, it's no wonder that Cristina couldn't bear to handle the situation after they were rescued. There have been bombs, shootings and too many deaths to count. 
The McDreamys. Meredith was lucky enough to get out of that crash without too much damage. Derek, however, was not. His hand was mangled. REALLY mangled. Who else was pumped that he asked Callie to do his surgery? The girl doesn't get enough credit on her work. Remember when she made that girl walk who was bent over at a ninety degree angle? I mean, seriously.
Crazy Cristina. Yang went into a spiral after the crash. Her speech to Owen about what she endured out there was heartbreaking. Keeping the bugs out of Arizona's leg and having Mark fall to pieces on her was terrible. She still managed to say a couple funny lines that you can check out on the Grey's Anatomy quotes page. She was right on running away to her new job. But I'm not too sure how long that will last.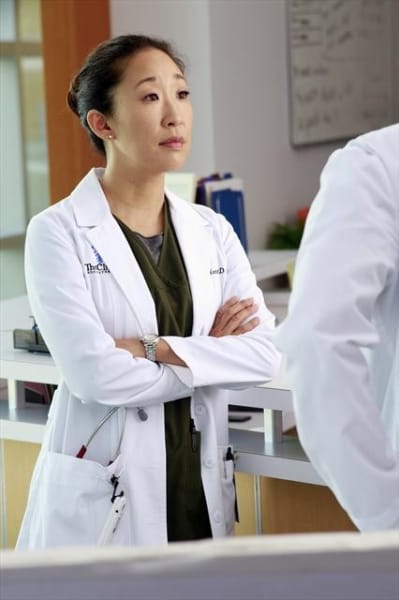 Goodbye Leg. Wow, Arizona was pissed. Rightfully so. She blames Alex for her situation because the only reason she got on that plane was anger at him. Callie's call to have Alex cut off her leg could not have gone well. I am curious to see Arizona's reaction after the surgery. She can't go on blaming Alex, but how do you move forward from that? 
Missing McSteamy. Although we knew Eric Dane would be in this episode, I almost wish he wasn't. It was sad enough watching him die the first time. It had been so long since we have seen Julia that I almost forgot who she was. I know I wasn't the only one who teared up when Sloan admitted that he loved Lexie. We now have officially said goodbye to the most handsome man to walk the halls of Seattle Grace. Grey's Anatomy will never be the same.
Side Notes...
April was heading home to the farm now that her contract was officially over. Avery asked her to meet him at Joe's but never got to show up because of Sloan. Where is this couple headed now that she is on her way back to Seattle?
Just a few glances of the new interns this week. Still not too exciting. We have enough cast members to worry about.
Who else wishes they could have seen the goodbye between Cristina and Owen?
Bailey just moved up another level with me, if that was even possible. She officially became awesome when she made a Lost reference.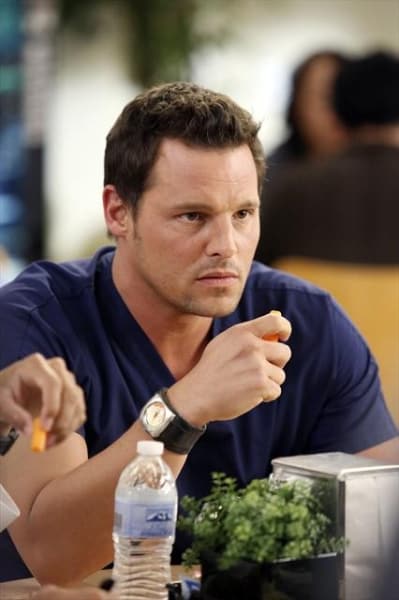 Overall, a pretty solid episode that filled us in on the tragic plane crash. I wasn't too sure that I was going to like the fact that we flash backed in time, but the episode was entertaining and tugged at your heart strings. Just the way we like our Grey's Anatomy.
We have a week off before our next new episode, so use that time to hit up the comments and check out the TV Fanatic
Grey's Anatomy
Round Table
this weekend. Until next time, GA Fans.