Hart of Dixie Exclusive: Scott Porter on The Morning After, The Rules of Dating, Bluebellapalooza
Matt Richenthal at .
Yesterday, I spoke with Jaime King about what fans can expect from Hart of Dixie Season 2.
Now, it's time to hear from Scott Porter, as this beloved actor previews George as a bachelor, promises another singing performances and also delves into a couple of his real-life charity endeavors...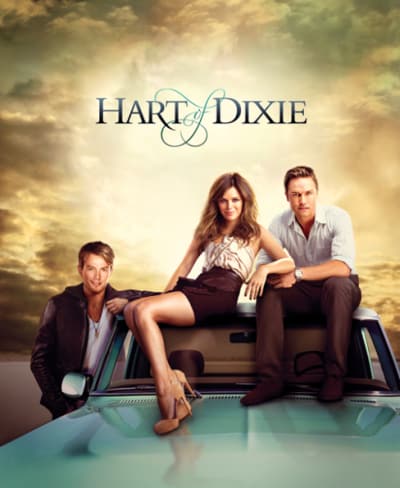 Where does tonight's premiere pick up?
The morning after the events on the finale. We needed to deliver on the promise of that episode immediately… to jump ahead, I think, would have been a disservice to the fan base.
So where is George at when we see him again?
He's got a big smile on his face. He thinks he's got a shot with Zoe… but he and Wade very quickly find out about each other.
Jaime King already hinted at George dating around. So is it safe to say Zoe makes up her mind by the end up the episode?
Yeah, it's made pretty clear in the premiere which way she goes. I think I can say, based on a few casting announcements already made [Kelen Coleman, Laura Bell Bundy], that George will be dating and it will be a bit of a revolving door for him.
What is George like as a single man?
He's a 15-year old boy in a 30-year old man's body. He's been with Lemon since he was 15. They've been a couple for half his life. He doesn't know how to ask a girl out on a date and he doesn't know how to break up with a girl, as was evident not he finale.
What kind of journey does George go down this season?
He has such a big heart. But he has to learn to make choices for himself as opposed to always thinking of how he can help others… I'd love to see George evolve and grow, but it's tough to do with a character who has already left Bluebell and come back home. He's worldly. He's a grown up.
What sort of festivities can we look forward to this season in Bluebell?
There's Bluebellapalooza [in which Porter will sing] and there's a Halloween episode, which we didn't get to shoot last year. Election Day is also a very big deal… There's a lot of pride in this town, they turn everything into an event. I'm not sure if you can find that anywhere else on television.
Tell us about the charities in which you're involved.
Every year I play in Beyond the Lights. It's a golf and poker tournament with Kyle Chandler and other cast members from Friday Night Lights and one of the causes it benefits is Grid Iron Heroes. Playing Jason Street didn't just change my life professional, it changed it personally.
Also, on October 20, I will be playing a 24-hour video game marathon for Extra-Life.org. You can sponsor me and all proceeds will go to my local Children's Miracle Network Hospital. Last year I raised $9,000 and my goal this year is $10,000.
To donate to Porter's cause, visit his Extra Life Player page now.
And tune in to Hart of Dixie tonight at 8/7c on The CW!
Matt Richenthal is the Editor in Chief of TV Fanatic. Follow him on Twitter and on Google+.