If you recall, in my review last week I had the sneaking suspicion that Audrey would push Nathan away because of The Hunter. I also thought she would fail to tell him about it.
As "The Farmer" began, she had yet to tell him, but when she discovered he was making plans for them months in advance, she surprised me and put it out on the table. Thank you, Haven, for doing the unexpected and proving me wrong. That's only one of the many reasons I cannot get enough of the show.
Duke's desire to help Audrey is not only admirable, but he has really great advice. Sure, some of it seems like mere words, goodies like 'I choose how to live my life and so can you...' but he's not far off the mark when your residence is Haven. Duke's destiny was to kill the Troubled and he proved he didn't have to follow it.
Disappearing, reappearing and having no memory of your Trouble, as Audrey does, might have a different nuance to it, but something tells me the Teague brothers have more to share that can help in that regard. They could have a lot of information they're holding back on the why of her leaving and the how. Time will tell.
The Trouble this week was pretty disgusting.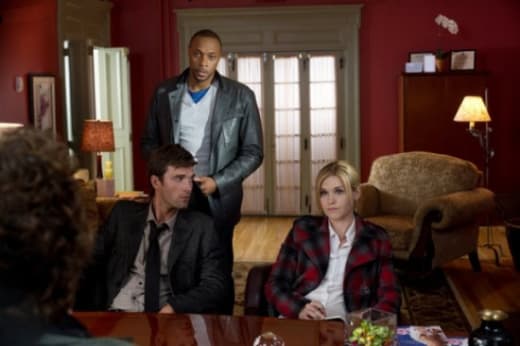 A lot of Troubles are not sinister, but the Troubled have little choice in doing what they have to do. The Troubled man who was harvesting organs for himself had donated enough sperm to ensure when his time came, he would have loads of available organs. He didn't hesitate to use them to save himself. I was confused about the speech he gave his son regarding the choices he made when his own father took him for a walk and the overpowering will to survive because he then went on to do exactly to his son what we expected he would do; kill his own kids to save himself.
So why the speech?
For Audrey to try to force upon Duke to become the fate he was fighting put a completely new face onto Audrey. Why did she feel she had to use him to kill the Troubled guy, Nix? Couldn't she do it just as easily herself? Duke had already told her what it meant to him that he turned from his destiny and took his own path. He has been her greatest ally, and I couldn't understand why she would make such a terrible request. It was out of character.
Nathan didn't have any idea where her head was at and frankly, neither do I. Could she be changing into the person who leaves, and might that be why she leaves each time? I was grasping at straws, I'll admit.
Did we already know that Duke's killing the Troubled lead to the healing of their victims? If so, I had forgotten and it was one hell of a twist in my head. I knew he absorbed their blood and gained power of some sort, but not that it affected the victims of those he just consumed. Running from his destiny was taking him further away from the man he wanted to be, but for all the right reasons. The look on Duke's face as he shared what happened with Audrey and the tears in his eyes spoke volumes. Eric Balfour's acting just gets better with every project he does, and it's a pleasure to watch him work.
Finally, we were introduced to Tommy, yet another character who wasn't who he seemed. Is anyone in Haven? I enjoyed him, but didn't like that he killed someone to stay and accept the job offered by Nathan, nor that his presence appeared to steal screen time from Adam Copeland (WWE's Edge), whom I've quite enjoyed in recent episodes. Tommy can stay and keep spouting out the quotable lines, but let's not forget about Dwight!
I've been hooked since the very first episode of Haven, but season three is outstanding. By far the best show on SyFy, it's also one of the best sci-fi shows on television. With shocking story progression, realistic character growth and never-ending surprises, it's the definition of must-see TV.
Carissa Pavlica is the managing editor and a staff writer and critic for TV Fanatic. She's a member of the Critic's Choice Association, enjoys mentoring writers, conversing with cats, and passionately discussing the nuances of television and film with anyone who will listen. Follow her on Twitter and email her here at TV Fanatic.