Major Crimes Review: Congratulations, You're An Orphan!

Carissa Pavlica at .
"Long Shot" felt a little unfinished, as if somebody wasn't willing to go all out because they didn't know if Major Crimes would be picked up. It wasn't a bad episode, or even sub-par, I just wanted more from one of my new favorites before I was forced to deal with it heading into hiatus. 
To quote an actual phrase I heard at the office today, which I thought was only a myth, that's all I'll say about that.
Once I got into the case, I tried to be smarter than the show in determining why the sniper kicked off the side mirror. I was so sure I had it sussed out. He didn't want his face to be recognized in surveillance video through the reflection. Yeah, not so much!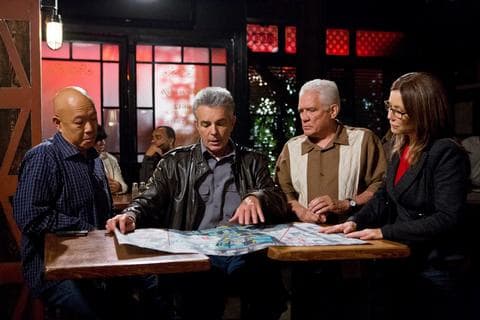 I hope police would, a) not give a random dude lisence plate information so quickly and b) take the time to look at current APBs before giving it out. It was unbelievable. No, really. Unbelievable. I think that was one of the worst police mistakes I've witnessed on either Major Crimes or The Closer.
Other than that, the guy was like the MacGyver of snipers, showing up with a half-used two liter soda bottle and pouring it out right in front of an indignant Mr. Reyes just before he found out it was a homemade silencer.
Too bad he didn't think far enough ahead to include Kevlar in his ball of tricks. If he had gotten involved with Sharon and teased her for episodes to come, he would have been a bit like Billy Burke's Phillip Stroh, who is the criminal we have to thank for Rusty.
With that, I finally segued myself into the Rusty story. There wasn't enough of it. Perhaps when the season was originally plotted out, nobody realized just how much the characters would resonate with the audience to make the show a success.
Rusty matters. Sharon and Rusty don't just have an integral relationship, but they are valuable to the rest of the squad, as well. Everyone wants what is best for Rusty, and at season's end, it was justice for Rusty.
Daniel Dunn was such an idiot, I almost felt sorry for him. They should do an inside episode of "Who Do You Think You Are" so Rusty can trace his ancestry and discover he has at least one intelligent, resourceful forefather in his family tree, because as it stands he must feel like the culmination of two of the biggest losers of all time. 
Thankfully, Sharon saw in him a boy worthy of redemption and love. 
The final scene in the squad room, as everyone fought for Rusty and Sharon against Daniel's weak-kneed excuses about making a mistake and how his fiance wanted to add Rusty to the family was a huge win. Especially when everyone signed below Daniel's signature as witnesses to the event. It was apropos to end the season with a deal, even one of that nature. A deal is a deal!
Something did bug me, however. By letting Daniel Dunn go free, they knowingly let an abusive man go back to a house where two young girls resided. That was the second mistake of the episode. I was waiting for the door to open and a beat cop to be outside to arrest him, even though he signed away his parental rights. The people in that room are not so near sighted that they didn't care about those girls. Was anyone else conflicted about that scene?
We ended on a high, for sure. I am extremely excited about the possibilities that come from a second season and will wait in anticipation for new episodes of Major Crimes next summer. Until then, don't forget to check out the Major Crimes quotes from tonight's episode because there were some memorable lines to carry with you through the long break. 
Carissa Pavlica is the managing editor and a staff writer and critic for TV Fanatic. She's a member of the Critic's Choice Association, enjoys mentoring writers, conversing with cats, and passionately discussing the nuances of television and film with anyone who will listen. Follow her on Twitter and email her here at TV Fanatic.