Who wouldn't want John Reese as his or her bodyguard?
For a guy who's not only a great pick pocket, a lethal fighter, a quiet charmer, snazzy dresser and loyal friend, it's hard to go wrong. He's pretty much the whole package.
And with Finch returned to his usual roost behind his computers, Reese was back to his quippy and cheery self, exuding that confident kick-ass swagger that illustrates what makes these two a fantastic pair of teammates and friends.
Essentially, "Masquerade" got Person of Interest right back into the swing of things with the standard number popping up and everyone doing what he does best.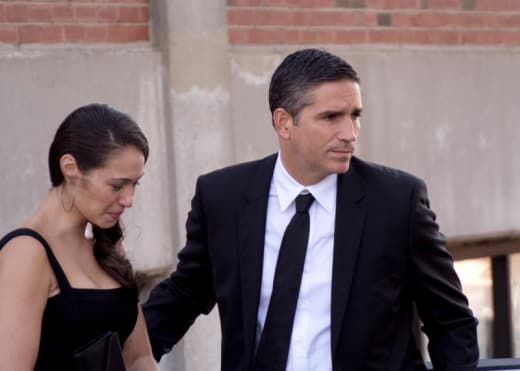 The case itself was interesting by at first letting viewers believe that the Brazilian diplomat's daughter, Sophia, was the potential target of a assassination attempt. And with her bossy, bitchy attitude, it wasn't hard to see her having her fair share of enemies.
Except it all took a nice turn toward her potential danger being caused by merely being witness to a killer that happened to be at a party she was at. Talk about wrong place, wrong time. That's some John McClane problems.
But, really, these cases wouldn't be as exciting or the curve balls entertaining if it weren't for the chemistry and charisma of the cast. Not only did all of the characters contribute in their respective manners, but there was something more going on with each of them that extended beyond the episode itself. It's enjoyable to see these characters continue to grow.
Finch may have been doing his usual computer work, but it was obvious that the Root kidnapping had a huge effect on him. For a guy that can portray such a resolute confidence in certain circumstances and pretty much where it concerns the machine, it was a big change to see him have that panic attack.
But I love that his affections for the dog, Bear, progressed throughout and that Reese was able to help him eventually get out for that drink by episode's end. These two are pals and with their new furry companion, three is not a crowd.
As for Fusco, he was his bumbling, dopey self, but he's so endearing that you can't help but want him to succeed even when you know he's gonna screw up. It was great that he was able to save Sophia, even if he ended getting his gun taken a few moments later.
Yet, it really didn't matter because Carter plowed right into the bad guy with her SUV. Now that's teamwork.
Even the bar fight, for instance, Carter coming in to save the day showed how much more the team has evolved from just Reese doing the hands on work. And there was a great and funny rapport between the two about Reese taking longer than four minutes and Carter getting bored in the car.
Of course, Carter helping out was only part of it, as she continued to dig deeper into Alica Corwin.
And I know I've said it before, but it's a testament to the show in its ability to have that one-off feel for the casual viewer, while interjecting bits of the larger mythology at the same time
Bringing back the assassin from the Person of Interest Season 2 premiere to retrieve whatever was in Alicia Corwin? Well, that plot thickens.
Not to mention the return of Agent Snow and Cara, who we last saw showing up alive in "Matsya Nyaya." Where is that story headed?
There is a lot going on, but it never feels like too much or overly complex, and that level of excitement for what's to come just increases with each scene.
It's hard not to gush over the return of Person of Interest, especially after being bumped by the debates last week, but the fact that it's in full form is fantastic. This episode certainly made me all smiles and even getting Reese to smile made things that much more fun. If you aren't watching, you're missing out on a great show.
What did you think of the episode? What's up with Cara? What's the secret with Alicia? Why do people think they can beat Reese?
Sean McKenna was a TV Fanatic Staff Writer. He retired in May of 2017. Follow him on Twitter.