Eli Roosevelt may be a man of the law, but he's also a man who lost his wife a couple weeks ago on Sons of Anarchy Season 5.
How will this sheriff react to the death? We got a glimpse of his reckless behavior on last Tuesday's "Small World" and Rockmond Dunbar told reporters on a conference call soon after the episode that Eli actions were merely the tip of a crazed iceberg.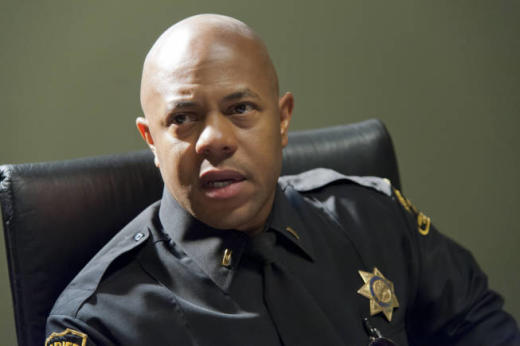 "This dude is spiraling out of control," the actor said. "He's lost everything that he built his life for. He took a job close to home where he thought that would bring his relationship to his wife a little bit closer. They're trying to have a baby. She finally gets pregnant and then she's killed. 
"He has nothing. He has absolutely nothing. So, what do you do when you're stripped away? A lot of characters really need to be careful and to look out for this guy because he's on the edge."
Dunbar - who thought he would be killed off SOA after his 10 episodes were up last year - was understandably vague about what, exactly, is to come for Eli and his association with SAMCRO. But he did offer up this spoiler-based nugget:
"He definitely invites evil into his world."
Sons of Anarchy returns with a new episode, "Toad's Wild Ride," tomorrow night on FX.
Matt Richenthal is the Editor in Chief of TV Fanatic. Follow him on Twitter and on Google+.