The Big Bang Theory Review: Hallow-weenies

Carla Day at .
It's Halloween in Pasadena.
Penny and Leonard found their sexual mojo, Raj planned a party, Sheldon and Amy compromised and Howard ... he talked about space. Just another episode of The Big Bang Theory.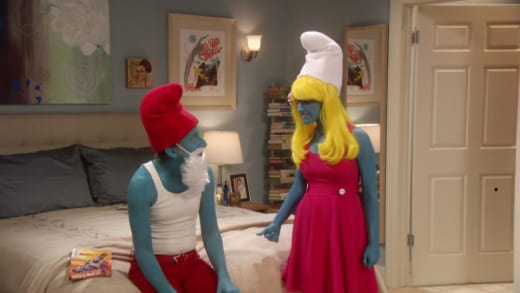 While I'm glad that Howard returned from space, his incessant talk about it was getting a bit out of hand - and we only saw a few minutes of it. Can you imagine two weeks of that?!? I'm surprised that Bernadette and his friends didn't buy ear plugs.
Although I also can understand where he was coming from. He had a huge accomplishment and even though it was over, he didn't want to let it go. In general, I'm not sure how Bernadette puts up with Howard, the space talk being a minor issue compared to some of his other habits.
They are perfect for each other, though. Her "I married you" speech was heartfelt. And they were so adorable as Smurfs. However, she wasn't actually Smurfette, right? Papa Smurf and Smurfette together would be a little creepy.
Meanwhile, Penny decided to try and get closer to Leonard by learning more about his work. And they definitely got closer! Leonard has some pretty cool projects that he's working on and even though Penny didn't understand them, she appreciated them.
Leonard was a lucky guy this week. Lab action! Tardis photo booth action! Penny can't leave him now, can she? They are so adorable together. Perhaps this renewed spark in their relationship is just what they needed.
The other geek couple still weren't getting it on. Sheldon gave in to wearing a Raggedy C-3PO costume instead of giving Amy a hickey, so it doesn't look like he is getting any closer to satisfying her in that way.
But I'm not sure how Raggedy Ann and Andy became Raggedy Ann and C-3PO since they were never put on the board in the first place. Regardless, Sheldon and Amy came to a compromise and it worked.
These three couples all ended up having a fun Halloween. Poor Raj ended up all alone again, as did Stuart. I hoped they would have fun at the party together since they are becoming buddies. Stuart's lies about the food took that possibility away. Raj wanted the credit for his hard work, Hallow-weenies and all! It was a Koothra-party after all.
"The Holographic Excitation" had some funny moments, but none as hilarious as during the previous game night. Sometimes the relationship stuff is good, but other times it drags the laughs a bit like it did here.
Check out our The Big Bang Theory quotes section and vote for your favorite costumes.
Which did you like the best?
Carla Day is a staff writer for TV Fanatic. Follow her on Twitter and on Google+.