When I first saw the cold open as a promo for "Andy's Ancestry," I laughed my face off.  
When I saw it again, it was still hilarious. By the time this episode of The Office aired, the joke had lost most of its punch, but that doesn't mean it wasn't one of the best openings we've seen in a long, long time.
What a prank! Jim and Pam took some pretty great strides to get Dwight's goat with this one. Between informing their actor friend on the ins and outs of Jim's job, getting him Jim's voicemail password, Pam kissing him straight on the mouth and taking the time to shoot a brand new family portrait, I'd say this one might have taken the most planning ever.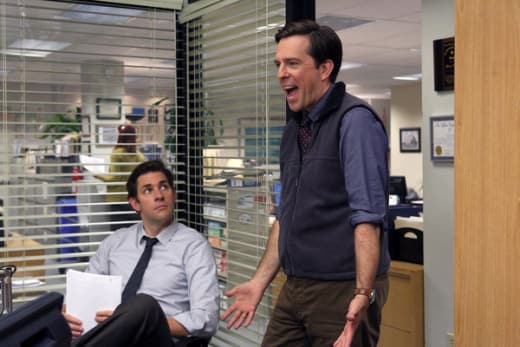 Once the heart of the episode began there were a number of plots going on at once. The one that worked best was Nellie and Pam's bonding intertwining with Jim and Darryl's bonding. I know readers have taken issue with Nellie in the past, but I continue to enjoy her style of comedy. Her being a terrible driver...not funny. Nellie taking joy in lying to Andy...very funny.
Watching Pam starting to enjoy hanging out with her was kind of sweet. She doesn't have any friends in the office so it might be nice to see this bond work out. The highlight of the whole story, though, had to be when she and Darryl were watching Jim and Pam converse about the former's new job opportunity and Nellie thought it was about Jim having an affair. Darryl mentioning how he wanted to get it in on it was absolutely hilarious given the situation.
"Andy's Ancestry" also featured Andy trying to fix the fact that he may have been related to slave owners, Dwight teaching Erin the fake Game of Thrones language of Dothraki, the new guys clapping for Andy and Darryl attempting to be more efficient at life.
Plop and Dwight Jr. cheering Andy on at meaningless tasks was pretty great, my favorite being the clap for his copying ability. Dwight and Erin were kind of lost in the shuffle, as not many laughs came out of the whole Dothraki thing - and that's coming from a big fan of Game of Thrones.
Overall, it was another decent episode of The Office's final season.  ake a look at a few more of our highlights from "Andy's Ancestry" below, and then let us know what you thought of it.
That was a great call back to Darryl making extra sound bites for the camera.
Dwight: Ah, French.  It's a great language...if you're a chain smoking acrobat.
Kevin changing Andy's ringtone to Dixie.
Jim looks exactly like Nixon!
Dwight: I was joking about the whole Bunde thing.
Nellie: I'm going to find you someone better and rich...and Filipino.
Check out all the best lines in our The Office quotes section.
Dan Forcella is a TV Fanatic Staff Writer. Follow him on Twitter.