The interesting thing about Vegas is that I'm never quite sure for whom I'm rooting. And "All That Glitters" just intensified that conundrum.
Having two flawed main characters certainly isn't a bad thing, though there are moments when it's confusing.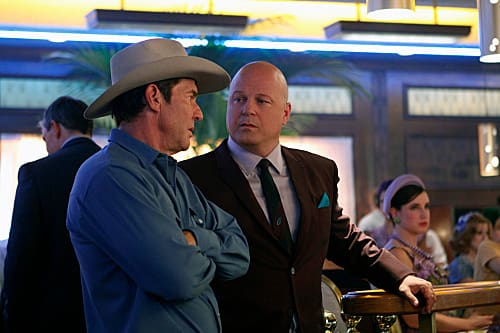 Ralph Lamb's a man who didn't want to be Sheriff, yet he's certainly embracing the role. He's now the law in Vegas but it seems to be Lamb's law that he's enforcing. 
Lamb was quick to throw the cuffs on Johnny when he hit the casino floor. Not that I minded. It was kind of fun to see the top bully get bullied. Johnny was the kind of guy who found his power in acts of brutality against the weak. Watching Lamb smack him around a bit was certainly satisfying.
But Lamb let Tommy's real killer go with a stern talking to. Obviously without a full confession he had no way to prove that Ray had drugged Tommy. I'm guessing toxicology screens weren't as accurate in 1960 as they are now.
Ray was a good guy who did the wrong thing for the right reasons. Yet somehow, it still didn't feel right to see him just get to walk away without having to answer for what he'd done.
On the flip side, we've got Vincent Savino. Savino's a criminal. There's no hiding that but he also protects his staff from Johnny's ridiculous temper when he can. He's willing to go up against Johnny and speak his mind when he believes killing Lamb is simply the wrong move. 
Savino's a smart man. He can see the future for Vegas and he'll fight to make it happen. There are parts of that I can't help but be attracted to. 
As for the rest of the cast, I'm enjoying each member. I just hope they begin to play more of a role as the show continues. Catherine and Mia are both intriguing as women of power in the male dominated world of 1960. Jack and Dixon both have a lot of potential that I'm hoping they fulfill sometime soon.

I can't say Vegas is one of my favorite shows. It's a little too subdued for that but it is solid. It's definitely the cast that keeps me coming back more than the storyline. Michael Chiklis, specifically, is so charismatic in his role as Savino that it's hard to look away. 
Every week on Vegas, Lamb and Savino will continue to cross paths yet it's never a given who I'll end up cheering for. How about you?
C. Orlando is a TV Fanatic Staff Writer. Follow her on Twitter.