Although Liz Lemon's wedding wasn't the magical moment that most girls dream of as kids, it was a part of one of the funniest episodes in 30 Rock's final season. That has to be worth something, right?
Highlighted by appearances from Dennis Duffy and Dr. Spaceman, "Mazel Tov Dummies!" used guest performers to its advantage, while letting Tracy Morgan simply do his thing.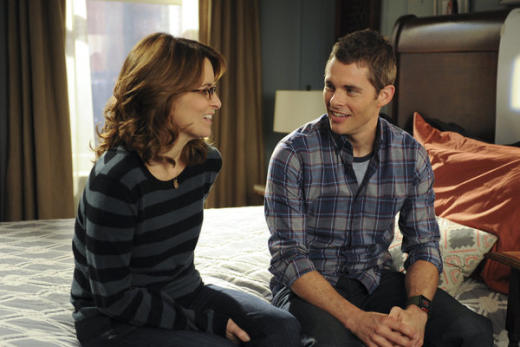 While it wasn't the main focus, Tracy's story led in laughs as he made fun of Dot Com, got depressed about being healthy and responsible and then had a conversation with Jack Harriet Tubman in his mind.
I'm not sure which was funnier: Tray brushing his teeth, putting on sunscreen, thinking Harriet Tubman surfed around the world or the fact that he couldn't think of Jack Donaghy's name (Jim Dennison).
Dean Winters, Chris Parnell and James Marsden all added to the enjoyment of this very special wedding episode, but of course it was Winters who spit out the most memorable lines...
Dennis: I don't need scams. I got a great new business selling suicide insurance, and it's going great.
Dennis: You remember Megan Duffy, maiden name Duffy, hopefully no relation.
Liz: His name is Black Dennis? That is racist!
Dennis: Yeah right Liz, the guy with the Black son's racist.
Dennis: Mazel tov, dummies. Liz you're Jewish right?
Jenna and Jack's realizations that they're both "has beens" was also a nice addition to the half hour. With quips like the following, it's hard to hate on anything about this episode...
Jenna: My boyfriend was supposed to pick me up after that shoot, so I called him and I was like "OJ, where are you?"  And he was like, "Wait, you're alive?  Then who did I kill?"
Jenna: Two thousand dollars Jack? I've stolen more than that from my cleaning lady's purse.
Jack: I coined the phrase "You wish, pal!"
So what did you all think of "Mazel Tov, Dummies?" Was it one of your favorites from this season? Or did it lack something special? Check out our 30 Rock quotes page, and then sound off in the comments.
Dan Forcella is a TV Fanatic Staff Writer. Follow him on Twitter.