SPOILER ALERT: At the conclusion of last night's American Horror Story: Asylum episode, Chloe Sevigny's character of Shelley lost of her legs.
They were chopped off by James Cromwell's Dr. Arden after the sex addict turned down his advances and exposed his... physical limitations. So this is clearly as bad as it gets for Shelley, right?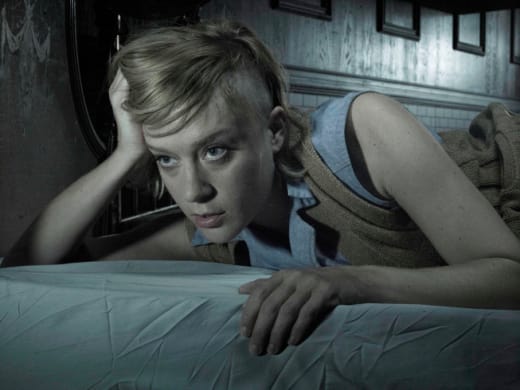 "It gets worse. Far worse," Sevigny told reporters this morning on a conference call, adding the following mysterious teaser: "He transforms her into something else."
Along the way, as you might expect, Shelley will grow "more and more helpless, as the actress explains how institution inmate will soon become a "very tragic" figure in Ryan Murphy's grand narrative.
"In the beginning you kind of are not so much rooting for her, because she's this bad girl, but then you see her helping [Kit, Lana and Grace] try to escape and you realize she's pretty selfless in that regard," she posits. "And after she gets in the clutches of the evil doctor, you're more rooting for her, that she can find her way out."
American Horror Story: Asylum screams full speed ahead with a new episode next Wednesday night on FX.
Matt Richenthal is the Editor in Chief of TV Fanatic. Follow him on Twitter and on Google+.