Scandal Exclusive: Betsy Beers Teases Love Triangle, Complications to Come
Jim Halterman at .
Brace yourselves. We've only got two more new episodes of Scandal before we head into reruns over the Christmas/New Year's break. The good news? These installments promise to be as thrilling and exciting as all of Scandal Season 2 so far.
So who better to tease and taunt us with some storyline details than Executive Producer Betsy Beers? Remember, we warned you, TV Fanatics: Brace yourselves...
--------------------------------------------
TV Fanatic: This Thursday's isbuilt around the President's 50th birthday. Safe to assume there'll be some juicy love triangle stuff for Olivia, the President and her new beau Edison?
Betsy Beers: That triangle is going to definitely start to heat up. I think that in the sixth episode you really get a sense of how much the private life and the public life start to sort of bash up against each other for Olivia. The relationship with Edison, how is that going to go? What's the next step for that?
You've also got David, who's dealing with the Abby breakup and Abby who's going to be dealing with the David breakup throughout this episode. In fact, that continues to be an emotional issue. I think you're going to get a little more insight into what David has found out.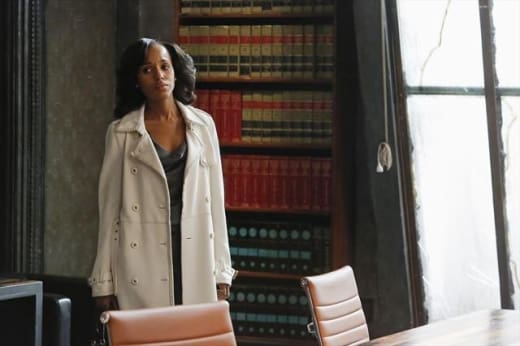 TVF: The previous episode, where we met the spies from Huck's past was so fun, but also so revealing about him.
BB: That episode for Huck and the group of people that he spent a lot of time with and worked with gave such insight as to who he was and who he is and the fact that his name is Spin for spinster. It's so moving! I think one of the amazing things about Huck is here's Huck, who in season one has used a drill to certain amount of effect and clearly has this background where not only was he homeless but he worked with this group of guys and we all love him. I think partially it's because look at the way he treats Olivia and he tries to take care of Olivia and he cares about the family and he care about the loyalty.
TVF: I love Mellie so much. It's always like 'here comes the tornado into the room.' But Olivia and Mellie are currently on the same side at least in one capacity. Is that something we see more of?
BB: I think that's ongoing and in past episodes we have always realized that Mellie and Olivia are in an incredibly odd situation, in that to a large degree their agenda is very much the same, which I think that's said incredibly well in 'All Roads Lead to Fitz.' In their own ways, Olivia missing him, Mellie feeling sort of sidelined by him, Cyrus' admonition to her that in fact he is the most important thing. The thing that brings them together is also the conflict between them, which is Fitzgerald Grant.
Mellie comes in usually with guns blasting and she's very political and she's certainly very, very tricky. But at the core of it, it's a woman who is really in an impossible situation. Because the thing that her husband can't have and shouldn't have, as far as she's concerned, is the thing that actually helps him run better. What do you do in a situation like that? It's horrible.
TVF: Is Mellie truly still in love with the President or does she just see it as the means to getting what she wants?
BB: I think she has a marriage with him. I think it was hugely revealing when they tried to patch things up earlier in the season. I do think she loves him. I think that she's been very hurt by what she perceives as what's happening. I think she's been hurt by it. But I think she really loves him.
TVF: Let's talk about Quinn for a second because I love how her story has gone this season. Is the story of her past over or is it going to come back to life?
BB: I think there's definitely still some threads in there that we have not pulled.

TVF: I'm personally ready for a big Harrison episode. I feel like there's a lot more with him that I'm dying to know.
BB: You know what? I feel like in the next episode you get another dose of... I think ['Defiance'] is the first one where Harrison steps up, because it's the episode in which Harrison says [to Olivia] there's an empty office. I believe that I'm here for you, I can be part of the family, I can be this person that you need me to be too. I think that the next episode is ongoing, there's been a shift in Harrison's position.
We're going to see Harrison for the first time really running a case. It's a great case and Harrison is really going to kind of be the point guy on it. The next episode, there are the dynamics I hinted before with Abby and Harrison; it gets more complicated.
TVF: In this next episode, do we get any more of Cyrus and James? I know their relationship is also a little shaky.
BB: I don't think we can ever stay away from Cyrus and James. They're so wonderful. Yes, there will be more. Yes, the plot thickens with Cyrus and James.
TVF: Olivia is such a puppet master in all these people's lives and most of them don't even realize it. Will we be getting to the point where some of them might figure out what she's done?
BB: There's always that possibility. I think one of the great things about this season of Scandal, and as we move forward, is that every single person's loyalty will be tested. Relationships that you think are one thing and solid and firm may change in a different direction. When people's loyalties are tested, they behave in ways that you may not expect at all. There's some really shocking things coming up in the next couple of episodes.
Jim Halterman is the West Coast Editor of TV Fanatic and the owner of JimHalterman.com. Follow him on Twitter.