Who advanced to sing another day?
The Voice cut its finalist down from 12 to 10 on Tuesday night's results show. Did your favorite move on? Let's see how it all went down...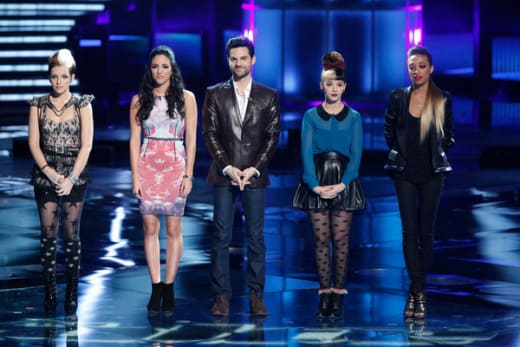 The first pair to be saved by America's vote was Bryan Keith of Team Adam and Sylvia Yacoub of Team Xtina.
Next to be sent through to the next round were Nicholas David of Team Cee Lo and Dez Duron of Team Xtina.
Trevin Hunte of Team Cee Lo and Cassadee Pope of Team Blake were the next pairing to be sent to safety.
Finally, Terry McDermott of Team Blake and Amanda Brown of Team Adam were announced as saved by America, which left one contestant from each team still awaiting judgment.
Team Cee Lo's Cody Belew - Safe
Team Adam's Melanie Martinez - Safe
Those final results meant that Michaela Paige of Team Blake and Adriana Louise of Team Xtina are gone.
Michaela and Adriana had what I thought were the two worst performances Monday night, so America got it right this time around. Maybe it's a good thing the coaches no longer have the power.
What did you think?  Did America get it right TV Fanatics?
Dan Forcella is a TV Fanatic Staff Writer. Follow him on Twitter.