Up All Night didn't do the airline industry any favors tonight, as Chris and Reagan were reminded time and again that you never fly on Thanksgiving.
"Thanksgiving" opened with a disastrous morning for the Brinkley family... and things never got that much better, but they got through a deluge of disappointment together and in the end were just grateful to have their family and friends together. 
Early morning flights always seem like a good idea when you book them, but Will Arnett hilariously showed the reality of such decisions as he accidentally got dressed in Reagan's pregnancy pants.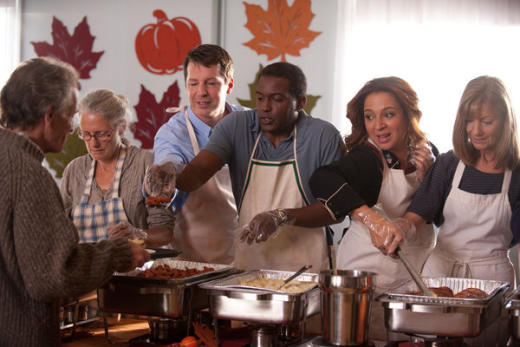 Ava and Walter are besties again, apparently, and were enjoying some pampering until Ava grew a conscience and decided they needed to volunteer and give back. So they passed up the chance to dine on the turkey Obama pardoned last year and crashed a church function. Ava is never short on things to say, but tonight her right hand man Walter (Sean Hayes) was the one providing most of the memorable Up All Night quotes. 
The Brinkleys did their best to avoid Gene and Terry, but I was thankful they failed to do so. Gene in the dickey and Terry "playing football" were two of my favorite moments of the episode. 
The unsung hero award goes to Paul (Will Sasso). From his taste in adult cinema to his line about starting the day off with a Denver omelette and a Schlitz, he made for a very amusing uninvited guest. 
After the biggest turkey debacle since A Christmas Story, I sort of thought Ava would have set up the entire crew with room service and mani-pedis in lieu of the pizza and beer, but any chance to play some Eddie Money is a good one i guess. 
What did you think?