The Cook County way came to Vegas and it was ushered in by none other than Laura Savino on Vegas this week.
"The Real Thing" kept us guessing about lawmen, fake gaming chips and the best way to get elected.
The Brains Behind the Man Savino's wife Laura was a breath of fresh air in Vegas. Just when I thought she was going to be relegated to the typical nagging wife role, as she complained about Vince constantly leaving her along, she stepped up and took control. She doesn't want to be taken care of. She wants in and thankfully Savino is smart enough to use her as the asset she is.
Apparently her Daddy taught her how to get things down the Cook County way, as she explained to Vince in this Vegas quote…
 There's always a way. You just have to find it or buy it. | permalink
So true, especially in Las Vegas. And then Laura helped her husband do both. With a little creativity, some makeup, a truck full of free (aka stolen) TVs, and a well timed power outage, even a dry cleaner can become mayor of Vegas. Mayor Bennett didn't know what hit him.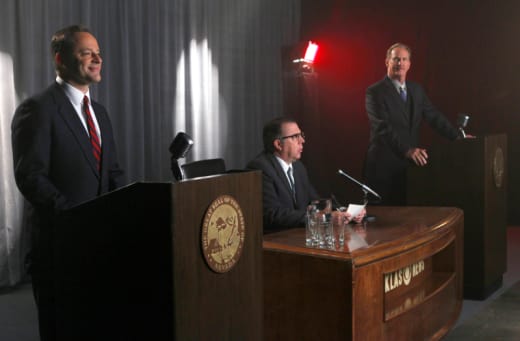 It's fun to remember that this was 1960 when TV was new and the politicians that learned how to use it to their advantage were the ones who won elections. 
And I really hope we get to see that lunch between Katherine and Laura. They are two smart women working on opposite sides. Could this be the start of a beautiful friendship, an uneasy alliance, or will their conflicting goals make them enemies? No matter what the scenario it should be interesting to watch.
An Uneasy Partnership There was also a murder to be solved as Howard the dentist made fake chips out of dental cement and cashed in tens of thousands of dollars at the Savoy. Certainly not a big surprise that he ended up dead on his office floor.
The best part of the story was that Lamb and Savino worked together to stop the fake chips…sort of. It's funny that Savino's boundaries as the mobster seemed more clear to me than Lamb's did as Sheriff. Savino was right in that we're still never exactly sure how far Lamb will go or whether or not he'll fall on the side of the law or what he considers justice.
The Lawman and the Mobster's Daughter I was happy to see Jack still pursuing Mia. They'd make a smart, fun, extremely complicated couple. I'd be happy to see that story unfold, although I can't imagine it would come with a happy ending. But who knows, maybe Vegas might surprise me and love will find a way.
Overall, I think I enjoy Vegas all the more when the lines between the lawman and the mob get a little blurry. How about you?
C. Orlando is a TV Fanatic Staff Writer. Follow her on Twitter.