The fact that 30 Rock is quickly coming to an end could not have been made more apparent the past couple of episodes.  Last week Liz Lemon got married.  And now, in "My Whole Life Is Thunder," Colleen Donaghy's death and Jenna's subsequent wedding were the stars of the show.
It created a real feeling finality, and that's not including what seemed like the end to Tracy and Kenneth in their week of pretending like they were on tv, which brought back the idea that Ken thinks Jacob from Lost is controlling his every move.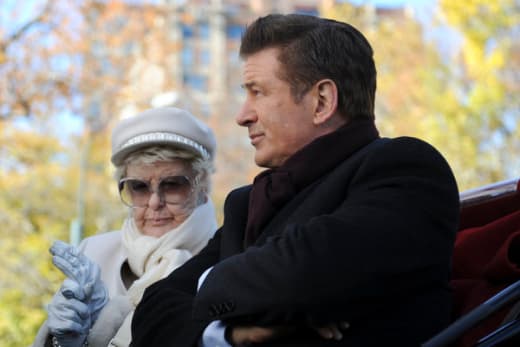 Although her character was fighting tooth and nail to grab the spotlight once again, Jane Krakowski seemed to steal the show effortlessly.  Quotable line after quotable line poured out of her mouth, with some of my favorite Jenna moments being;
Her mention of the surprise wedding pairings of Timber-Beal and AnneHatha-Nobody.
"What the H-E-double vibrators is that thing on your left hand?"
Stuffing her face with ice cubes.
"Technically I am an A-Lister now, because I was on A List to date Tom Cruise."
Running away from the lights like she is a monster.
"Liz: You are not the center of the universe, Jenna." Jenna: "I am too. I'm the moon."
Meanwhile, we were also treated to the final appearance by Elaine Stritch, whose Colleen Donaghy finally bit the big one.  Her back and forth with Jack has always been a tradition that 30 Rock fans enjoy.  My favorite such banter of this half hour had to be;
Colleen: "My father did not kill dozens of Germans so that his daughter could die in a van."  Jack: "But he wasn't even in the war."
It was her death though, that led to what was the self-proclaimed best eulogy of all-time.  And who is to argue with Jack Donaghy when he includes Irish and Italian accents, "Danny Boy" on the flute, and Kermit the Frog?  Not me.  Bravo.
Finally, after Paul McCartney and the choir did their thing, there was still some time for Jenna to have the surprise wedding in front of all her friends.  It was a nice way to bring everything together, as everyone seemed to get what they wanted, including Jack who didn't mind that Colleen would have probably hated the act.
What did you all think of "My Whole Life is Thunder?"  Was it one of your favorites of 30 Rock's final season?  Or were there not enough laughs in it for you?  Check out our 30 Rock quotes page, and then sound off below.
Dan Forcella is a TV Fanatic Staff Writer. Follow him on Twitter.