We're high on Castle and less enthusiastic about The Vampire Diaries.
Where do we stand on Chicago Fire following its opening set of episodes? This NBC drama is the focus of the latest TV Fanatic Report Card...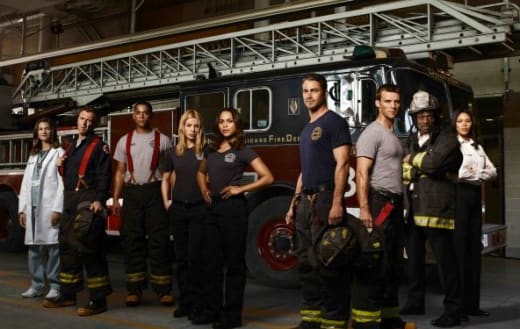 Best Episode: "Merry Christmas, Etc" had everything we could ever want out of an episode: lives in the balance, Boden's growing suspicion/doubts over the missing drugs, Casey and Dawson growing a little closer, Casey's past. It was a great package of just about everything Chicago Fire has going for it.
Worst Episode: The series premiere. Pilots for potential series have the unenviable job of showing the best a program has to offer to audiences and network executives, and aside from a rudimentary checking off of boxes – fires, hot guys, rivalry, etc – there wasn't very much exploration past that. Once Chicago Fire found where its strengths were (the cast, ditching the rivalry, shoving the periphery characters out of the way for now) things picked up quickly.
Best Character: Casey and Severide. These two work far better as friends and coworkers than rivals. Severide's love of the job, desire to help people and the kind way he has with people is an interesting juxtaposition with his drug-addicted interior. He takes the pills for pain, but his increasingly erratic behavior is dragging more and more people down with him, sending them into moral gray areas that wouldn't necessarily go down if it were anyone else.
Casey, on the other hand, is a genuinely sweet man who is only trying to do what's best for him and his team. His unwavering loyalty to his team is wonderful, as is his compassion for the people he serves, but there's also darkness to his past.
Worst Character: Hallie, Casey's girlfriend. I'm not even sure if she's still around since she and Matt broke up, or if she's coming back. My biggest hope is we never have to deal with her again. She's boring, a complete mismatch for Casey, and in a show like this it's best to keep the character's personal and private lives all contained where they work – much like Grey's Anatomy does.
Best Fire: Without a doubt, the pilot episode where Severide rescues Casey.
Biggest Head Scratcher: How is Severide's arm not out of its socket by now? We're told his shoulder has severe damage and it's amazing he's lasted as long as he has, yet he continually puts his shoulder in harm's way.
Second Biggest Head Scratcher: Cruz letting Flacko die in the fire. I don't really mind that a violent, drug dealing criminal burned to death, but Cruz's story came so out of left field, and his brother is so unlikable, that I don't much care either way what happens to Cruz or his sibling. This head-scratcher doesn't even mention the fact that it stands in direct contrast to his job.
Hopes for 2013: Severide's shoulder story starts progressing sooner rather than later; we learn more about Casey's past, Dawson and Shay's accident aftermath and the Hermann's budding limousine empire.
Overall Grade: A-
YOUR turn, TV Fanatics: Give a grade so far to Chicago Fire Season 1...