Not all of our favorite men and women of uniform will be having a very "Merry Christmas, Etc." as some of them deal with problems of deception, pain and loss.
And, as if all of the above weren't enough, Chicago Fire ended with a deafening crash - but we'll save that for the end of this review.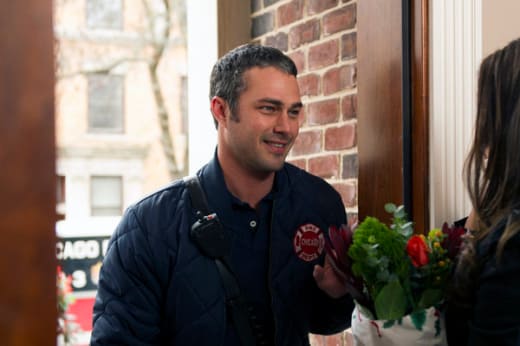 I honestly suspected Cruz was the one behind stealing the necklace. His dreams, and the potential loss of his brother to gang violence, seemed like the perfect cocktail of poor-choices-that-seem-perfectly-rational-in-the-moment, especially when he didn't have the money available to do the Flacko's buyout.
Yet, even without having the entire story (or really any story at all) Casey willingly went back to the homeowner who lodged the complaint and called her out on her potential fraud. It seems no matter what the circumstances, they have each other's back, but just how far is that loyalty going to go as the misdeeds of the crew begin coming to life? While everyone was truthful in this instance, there are plenty of others hanging in the balance.
Cruz's decision to not save Flacko in the house fire stands in direct conflict with the requirements of his job: he does not discriminate who he saves and who he doesn't, he isn't allowed to play God, but I'm also not really all that broke up about it. We're all willing to go far beyond our moral compasses for those we love, and it's a theme that was strongly prevalent in this episode.
Which brings me to Casey. In "Leaving the Station," we're given a brief introduction to his family, particularly his sister's family, as he visits his father's grave. While it was never outright discussed or mentioned tonight, it's probably safe to say Casey's mother killed his father. Why else would she be in jail?
However, going on appearance only, Casey's mother doesn't look like the murdering type. She's small in stature, well mannered, and has a warmth to her, but which family member stepped out of alignment from their compass: Casey or his mom? It's easy to side with Casey's sister, but Casey is such a genuinely noble and true character it's hard to completely dismiss his Mom right away.
Casey's love life isn't faring much better as his "date" with Dawson fizzled out almost instantly after all of that wonderful build up, but - like any good love story on television progress - was only made when one's life is hanging in the balance.
Which brings us to the much-hyped "final two minutes" by NBC with Dawson and Shay. Watching the flatbed truck swerve out of the way of a car and directly into their rig caused my heart to stop momentarily. Shay and Dawson never catch a break, and just when it look like they're getting somewhere a Clarice bomb blows up in front of them or medicine for a friend comes back to bite them.
In a way, the crash is symbolic of all the lies Severide has told to Shay to cover up his drug problem, and her moving out might be the "push" he needs to begin to take responsibility for his actions. For Casey, this could be just what he needs to finally evaluate his feelings for Dawson and decide whether to take any further steps with her.
What did you think of tonight's Chicago Fire? Be sure to read and contribute to our Chicago Fire quotes section and I'll see you back here in two weeks for the aftermath of the crash.