"Leaving the Station" was a more subdued episode of Chicago Fire.
There was plenty here, as always, but with a few distinct differences: first, things revolved more around Shay and Dawson on the ambulance rather than fires with the guys; and second, Mills was contemplating leaving the firehouse.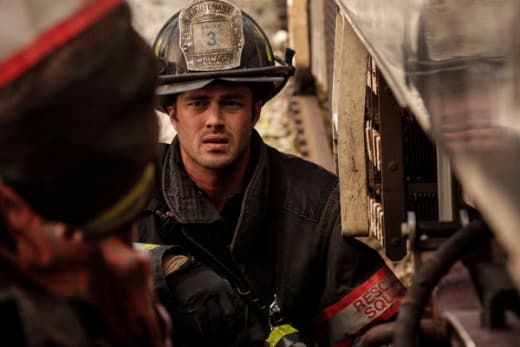 It's about time Shay and Dawson enjoyed some screen time to themselves, but it was disappointing to see that this was merely used to carry on their current storylines without introducing anything new. Dawson is still headstrong, but her instincts are as good as ever. And Shay is still harboring feelings for Clarice; however, at least Shay is truly trying to move on with her life, and it's good to see her try to rebuke Clarice's advances.
Clarice is nothing but trouble. I get plenty of con artist vibes from her. She knows how to worm her way in with people, and she uses them for whatever needs or wants she has at the moment before casting them out. She's done so with Shay once before, and she's doing the same with her husband. Plus, Dawson is giving her plenty of glares, and that is proof enough for me that Clarice is up to no good. 
Mills' witnessing of his first horrific event and his subsequent reaction is understandable. My brother has told me plenty of stories of decapitations, child deaths, and losses against the clock to make everything seem unworthy. If talking to someone isn't working, then finding something that does (and isn't dangerous) is paramount to dealing with the stress of the job. If pushing those feelings into a box is the only way to do so, then so be it.
And that reaction is the one thing Mills' mother doesn't want. Her goal is admirable, and her point of view is completely understandable. But why is it her decision, her right almost, to decide the path Peter wants to take in life? There's being protective, and there's standing in the way of her son's dreams. If she cannot find a way to balance those two competing ideas then she needs to take a moment, step away, and find some clarity. Peter is a grown man and is starting his career.
That speech being said it's wonderful to see everyone at the station stepping up and trying to help Mills. They've all bore witness to atrocity, and each has found a coping mechanism that works. It's nice to see Casey likes to find balance and find the good in everything, and not just the bad.
Finally, tonight we found Kelly in yet another precarious position with his shoulder, and once again it was nearly ripped out of its socket on a rescue. For something that's forever on the brink of catastrophe, why is it it's still such a common element every week? Here's hoping Chief Boden keeps a bigger eye on Kelly as the current path is starting to quickly run its course.