On Criminal Minds this week, we were treated to an UnSub who just wasn't all that clear on the concept of karma. 
"Perrenials" showed us what happens when you introduce a narcissistic psychopath to the concept of reincarnation: you end up with a murderer who thinks his path to enlightenment involves re-killing his old reincarnated victims so that they come back as flies instead of humans.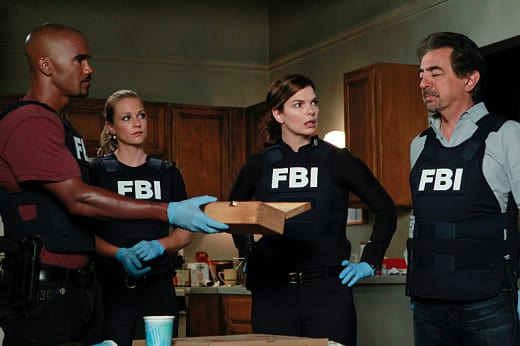 Maybe it's just the result of the contrast to last week's troubling episode, but this one seemed like they were scrambling for ideas.  The story only became compelling when the UnSub's last potential victim - a little boy - was introduced. 
Once he was freed and the killer got to the hospital and was confronted by the BAU, the rest was predictable. We knew he was going to opt for "suicide by cop" in order to complete his karmic quest.  The only thing we didn't foresee was his "D'OH!" moment when at his death he saw some slugs crawling around on his arm and he realized his soul would go into one of them instead of the baby he had just held.  Karmic justice indeed.
This week's Garcia-Morgan flirt scene (frankly, I don't think we see enough of these) went a little further than usual after she found out that Morgan had been shot, and came rushing in to see him, all frantic:
Garcia: When did you get back? No one told me you got back and I've been worried like crazy because they said you were shot. With bullets.
Morgan: I'm fine.
Garcia: I can't believe you were shot.
Morgan: I got shot in my bullet-proof vest baby girl. It's just a couple of bruises. I'm okay.
Garcia: Why don't they make better vests? That's not bullet proof. It's like when you fall in the pool and your watch stops working. That's water-resistant, not waterproof.
Morgan: I am just fine. See? [Pulls up shirt]. It's just a couple of bruises.
Garcia [stroking his six pack]: How long do you have to be taped up like this?
Morgan: I don't know. A couple of days maybe. Are you relaxed now?
Garcia [still stroking the bandage]: I'm relaxed. Hey, if you need someone to help you, you know, put new bindings on, re-wrap or unwrap...
JJ: Hey you guys----hope I'm not interrupting anything. | permalink
(There are more quotes in this week's Criminal Minds quotes page.)
I would have appreciated seeing more character development in the rest of the team. At least we got to witness that the BAU is now aware that they have another UnSub who is mimicking the crimes the BAU has solved. They have yet to develop the urgency in realizing the depth of his focus on them, however.
So, what did you think of this episode? Do you think the Garcia-Morgan relationship will ever go further than flirting? Would it ruin their friendship if it did? 
Douglas Wolfe was a staff writer for TV Fanatic. He retired in 2016. Follow him on Twitter
.