How I Met Your Mother Review: It's Just a Building

Chris O'Hara at .
As we countdown to a new year, we were treated to some old school caliber How I Met Your Mother this evening. First, in part one of the 2012 finale.
And then "The Final Page, Part Two" put one heck of a bow on what had to be one of the most complete nights of television this year, courtesy of Carter Bays, Craig Thomas and company.
Before digging into the juicy center of the episode, I do have to trim the fat a bit. It may have been Marshall and Lily's first night away from Marvin, but aside from their great lullaby scene, what we got was much of the same overacting we have seen from these two throughout How I Met Your Mother Season 8.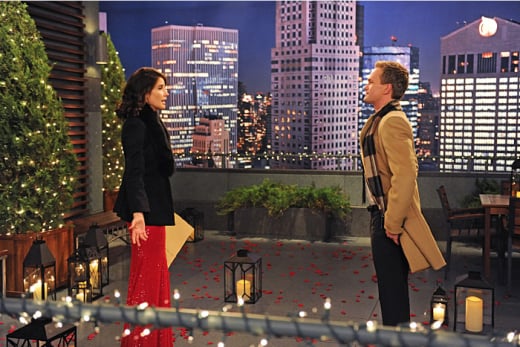 It was Ted's night to shine though and Lily's numerous unfunny references to his uneven floor did little to tarnish the brilliance of this star's performance. Ted put his stamp on the New York skyline, but more importantly he showed once again how he has been a true foundation for the friendships of those he holds dear. 
While the first half of tonight's two-parter featured many scene changes, the majority here seemed to take place in the back of the town car driven by the ever entertaining Ranjit, whose singing was spectacular.
As we continued our approach to the moment when we will finally meet the mother, Ted took stock of the last eight years and put his life into perspective for Robin and the rest of us. The GNB building is a triumph, but so are the relationships he has fortified over the better part of the last decade. For this reason, Robin heeded his request and got "the hell out of the car" like he asked, in what was one of the more moving How I Met Your Mother quotes ever. 
Without knowing it, Ted set the stage perfectly for his dear friend - and with the bases loaded Barney knocked it out of the park, penning the final page in his playbook. I'll admit I was a little surprised when Robin voiced her disapproval of Barney's Kaiser Soze moment, but that fire is what makes her so attractive. Well, that and the stunning red dress she was wearing. 
In the end, Robin said yes and I did, too, as a fan. Adding to the joy of the moment was knowing that Patrice was in on the plot from the beginning and was not hurt in any way.
On the whole, all was well with the crew from MacLaren's, as the How I Met Your Mother I have grown to love these past eight years seemed to return tonight. What did you think?