Leverage Exclusive: Dean Devlin on the (Possible) End of an Era
Jim Garner at .
Leverage creator Dean Devlin recently wrote an open letter to fans discussing the uncertain fate of the action-packed TNT drama, which may or may not be picked up for a sixth season by the network.
In any case, the upcoming Leverage Season 5 finale will end as though it were the series finale.
Devlin recently spoke to TV Fanatic's Jim Garner about what may well be the show's final episode Christmas Day, and what that means for the characters and storylines. Here's our Q&A: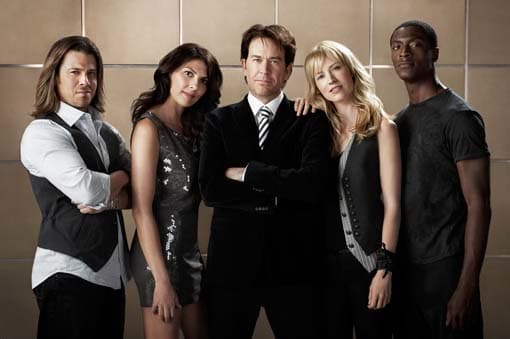 TV Fanatic: How do you feel about the evolution of the characters? Any stand out as a favorite?
DD: You're asking me to pick my favorite child. Honestly, they are all great. We worried that fans might resist the growth and say "hey we liked them better before," but it turned out the fans loved the evolution.
TVF: Any character back stories you wanted to tell but haven't gotten to yet?
DD: Loads of them, but the overarching story that we wanted to tell is complete with the season finale. That's not to say we wouldn't do more, we have so many more we could tell.
TVF: How much of your initial idea for the final episode had to alter as a result of the character's development over the last 5 years?
DD: Actually, the idea required the characters to be at a certain point they weren't at yet, so beginning last season we started accelerating it a little, and then this season when it started looking like we might not get a 6th season we accelerated it even more. So, character evolution was key to idea.
TVF: If you're not able to do season 6, would you consider doing movies to revisit the characters?
DD: We have so many more stories to tell, we would love to tell them however we could. However, we felt strongly that it was important that we finish the story for all of the fans who have been with us for 77 episodes. So that is what we did with the end of this season. When you watch it, you may say "wow they set the bar high for more stories" and that's ok we would enjoy the challenge.
TVF: Will we learn Sophie's real name and/or Parker's full name before it ends?
DD: I'm not going to give any spoilers, but what I will say is that this is the conclusion we have always envisioned and it does answer many things we've left dangling for a long time. 
TVF: Was the "Let's go steal a [blank]" planned as shtick or did it evolve?
DD: It evolved. We had it in the pilot, and then it got put in the second episode, then the third. And we were like "oh, guess that's our thing".
TVF: If this is the swan song for Leverage, what's next for you, another TV Series, or the rumored Independence Day 2?
DD: Roland Emmerich and I have written the sequels to ID, and it was so much fun to write with him again after 12 years. Things are moving along slowly there, there are just so many moving parts, but we want to get them made. I'm also looking at some other shows and would love to work with TNT again.
TVF: Finally, do you think that doing a "just in case" series finale as the season finale effects TNTs decision making on season 6?
DD: Not at all. The truth is they have a tough choice to make; I wouldn't want to be in their shoes. They have more good shows and new pilots than they have air time to show them. I know that TNT would love to have us back for a 6th season; it's just a matter of balancing it with new shows. With 5 seasons we are the longest running show on TNT and I'm thrilled for 77 episodes they have given us!
Be sure and tune in December 25 at 10 p.m. ET/PT for the season finale, "The Long Goodbye Job," on TNT.
Jim G. is a TV Fanatic Staff Writer. Follow him on Twitter.