Ah, finally! It was Charlotte's turn this week to take the spotlight on this Private Practice Season 6 installment.
I've been sitting tight and anxiously waiting for the focus to be on KaDee Strickland's Charlotte King, as we're winding down on the final run of this outstanding drama. And it definitely did not disappoint.
I've said it numerous times before, and I'm saying it once again: Shonda and company, please consider a spinoff featuring the Freedman family! Charlotte was absolutely spectacular. She was vivacious, over-the-top, and kept me laughing throughout the night. By the way, how amazing did she look in all of the dance sequences? I bet filming those scenes was a blast.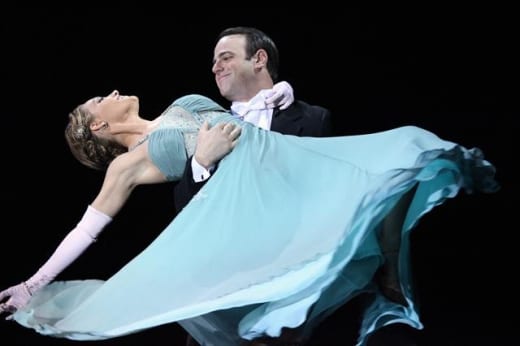 "Georgia On My Mind" focused on Charlotte, who continued to run Saint Ambrose Hospital from her doctor-ordered bed rest. At a first glance, I was thinking: seriously, Charlotte?!?
However, I couldn't have imagined her any other way. She's a control freak and with her thoughts so loud, it was easy to feel and see how difficult a time she was having.
Her frustrations and uncomforting position were more than she could handle. They were, in fact, more than she had ever asked for, as she drove the nurses crazy. Luckily, Stephanie was back to give her a reality check and tell her that she didn't care if she was fired because no one else would be willing to help Charlotte. Simply put, our girl just needed to hang in there and chill a bit with the call button.
I couldn't help but feel incredibly sad as Charlotte started to regret once hoping for a miscarriage. She cried out and wanted her life – instead of one of the triplets – to be taken if need be. It was truly a heartbreaking scene. Even more distressing was seeing "Sissy" struggling throughout the installment. Thanks to Addie, Sam and Amelia, "Sissy" was all right in the end, named Georgia and seen by her mom.
Elsewhere, Mason began acting out in school because he was scared that Charlotte might never leave the hospital. Could you blame the little guy? After losing his mother recently and considering Charlotte's pregnancy complications, it was no wonder he was having such a hard time dealing with everything. 
We saw CharCoop argue over whether not Mason should be punished. Each were pushed to his/her limits with a very intense argument. Ultimately, we were reminded that they need one another and make one heck of a team. I'm going to miss them terribly once all's done and said.
Other Thoughts
Hey, Dancing with the Stars, I think you should call up Paul Adelstein and KaDee Strickland. Those breakout dancing moments were awesome. So much fun to watch.
I laughed out loud when Charlotte threw her stress ball at the "choir reject Christmas carolers." She's absolutely hilarious!
I was surprised Charlotte didn't end up smashing a cupcake in Violet's face during the non-shower shower. How about you?
Sam and Stephanie are giving it a go again. Did anyone see this coming?
I thought this installment was remarkably well done and loved that we closed out this year in such a strong way. 
We won't see our favorite doctors again until 2013 when they'll return to wrap up Private Practice Season 6. Until then, be sure to hit the comments because I'd love to hear your thoughts on tonight's final episode of the year as well as what you'd like to see happen in the final three installments. Also, don't forget to return later this week for our Private Practice Round Table.