Did anyone feel like they were watching Saved by the Bell instead of Private Practice? I did, as "Life Support" focused on our leading doctor pulling a Zach Morris and speaking directly to us.
Love it or hate it, the narrative style sure made for an interesting take with storytelling. Tonight's installment was written well, though distracting at times, giving us the opportunity to really just hear Cooper out.
Like most Private Practice fans, I have been looking forward to this character-centric installment since the beginning of Private Practice Season 6. If you've been following along, you already know that I'm an absolute CharCoop fan.
Now, I'm even more convinced than ever that I'd be totally on board with a spinoff featuring the Freedman family.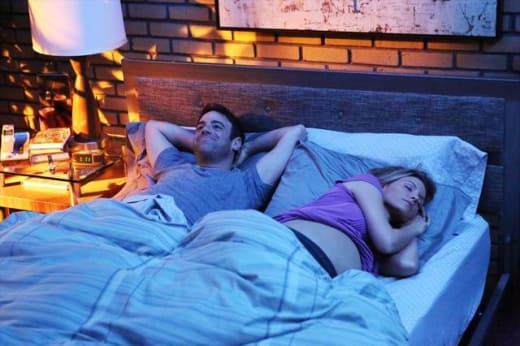 Every passing minute reminded me how much fun it has been to watch Cooper grow as a doctor, husband and father. Most importantly, I have loved the way Charlotte brings the best out of Cooper and vice versa. Their love has always felt real and romantic in such a special way. 
While Cooper was both as nervous and excited as he could be, Charlotte was seemingly nonchalant and reluctant to consider the possible complications of carrying and delivering triplets. Cooper's anxiety was causing Charlotte to become even more easily agitated than usual.
From disagreements with religion to actually discussing "what if" scenarios, Charlotte and Cooper weren't exactly on the same page about much at all. However, Cooper patiently let Charlotte make the decisions and they agreed that selective reduction was not an option even if it would reduce risks.
We found out that the Freedmans would soon be hopefully welcoming three little GIRLS! I definitely loved how Cooper yelled, "Girls are awesome!" Although Charlotte again wasn't too excited, you couldn't expect any less of her than to fight to keep every one of her babies and to try to stay strong for them, Cooper and Mason.
Then, a few "curve balls" were thrown their way. An emergency situation, involving some distress for the babies and for Charlotte, kept me glued to my seat as one of the babies had to be delivered immediately. At 26 weeks, the little one needed surgery right away. Her chest wall to cover her heart hadn't yet developed, and the surgery was a success thanks to Sam. That scene with Cooper in the O.R. when the baby girl's heart nearly twisted underneath the graft was incredibly difficult to watch. I couldn't help but tear up as Cooper felt terrified and entirely lost.
Unfortunately, the medical crisis was not fully resolved by the hour's end. Charlotte would not deliver her other two babies until week 32. There's still a risk for blood clots and headaches. The worst part of it all is she won't be able to see her little girl just yet. To say the least, I cannot wait until Charlotte's episode! I'm dying to find out what happens next.
Elsewhere, Violet consoled a friend who was being advised to take a loved one off life support. I struggled with having any interest whatsoever in Violet's sub-plot in the midst of Cooper's story.
Other Thoughts:
I thought the fruits for the size of the babies with the passing weeks of Charlotte's pregnancy were a nice touch.
I loved that we revisited the moment when Charlotte first told Cooper that they were expecting.
Sheldon was the last to know about the Cooplets. Somehow I'm not surprised. Poor Sheldon is always left out. 
It was so like CharCoop to get kicked out of Lamaze class. Of course they snuck off to do what got them there in the first place.
I laughed a lot tonight – all thanks to Charlotte's antics and Cooper's commentary.
Overall, this was definitely another strong chapter to an already stellar final season.
So, what did you think TV Fanatics? Also, don't forget to return later this week for our Private Practice Round Table.