Royal Pains returned tonight to wish fans "Off-Season Greetings." And if Royal Pains season 4 ended with a bang, this wedding special ended with quite the shock - but let's not get ahead of ourselves!
There was quite a lot in play leading up to Evan and Paige's nuptials, from snow storms to family drama. It all combined to make this one fictional wedding to remember.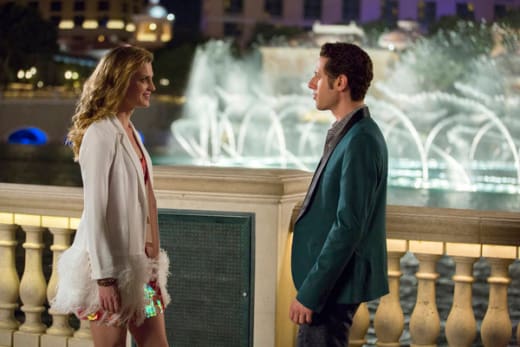 Evan's journey to the aisle was certainly an interesting and checkered one. We learned a lot about our favorite CFO this episode, more than I was expecting heading into the installment.
I had no idea about Owen and that failed investment. How unbelievable was it that Evan spent so many years thinking that he'd lost every penny of that inheritance... only to discover it was only $500? There were a lot clues that suggested Owen was poor, from riding a bus to the Hamptons all the way from Wisconsin to walking once he got there; I really thought Evan had lost his money. Apparently Owen was just frugal! Props to Evan for trying his best to make things right, though.
Paige, meanwhile, attempted to make the best of everything that was going wrong. Ever the optimistic bride, she prepared for her dream wedding amidst an oncoming snow storm, stranded guests, dead butterflies and delayed roses from Florida.She even found the time to play matchmaker for Divya in Vegas. I thought it was absolutely adorable when she and Evan found each other at the fountain. It was only outdone by Paige's amazing speech at their wedding.
This was an ideal summation of the episode. All they really needed were the people who meant the most to them.
Revelations were all around. The wedding bliss surrounding the Lawson family had Hank flashing back to his engagement to Nikki we've heard so much about. But we didn't know a thing about Winnie, Hank's high school sweetheart who was also very close with his family after the death of his mom. With her serendipitous appearance to make the cake for Evan's wedding, I almost thought she might be Hank's date to the wedding. Instead, she merely served as an opportunity for Hank to let go of the past.
One thing I really appreciated about this super-sized episode was that within the first give minutes Hank was already McGyver-ing with Candy Canes and a string of Christmas lights. I honestly don't think they could have executed a holiday special without it! It wasn't long after that that Hank used a bendy straw, gum and a portion of Divya's earring to make a tongue depressor. More proof that Hank really is that gifted at what he does.
I was glad to see that the head injury Hank experienced in that unexpected and highly suspect explosion at Shadow Pond three months prior didn't completely debilitate him. Then again, we also know that Hank wasn't unaffected; he did pass out more than once during the episode, and wound up in surgery before it ended!
Speaking of that explosion: OMG Boris is dead! Or is he...?
Clearly Boris will continue to be a man of mystery, but to fake his death? It brings up a lot of questions as to why he called Hank there, and why he's still keeping tabs on him from some unknown location. I'd hate to be morbid, but was Hank supposed to be in that explosion? These are clearly questions for later, but it was pretty clever of the writers to sneak in a little season five teaser into this installment.
Boris' return from the dead wasn't the only shocker to emerge during this special. Divya went from woman scorned to blissful newlywed all in the course of a few hours. Given Divya's recent history of unexpected behavior, however, did we expect anything less than for her to fall back into Rafa's loving arms? I thought there was no question that she'd take him back if they could reconcile. But getting hitched? That was a step too far.
I like that we've gotten to see another side to Divya, but I'd like her to be balanced out with the more cautious version of herself - there was just as much to love about her! I was glad she decided to annul her quickie marriage to Rafa. Taking it slow seems like the best option for everyone right now.
The rest of the epic highlights from this holiday:
Owen. He was such a character. Can we bring him back as often as possible, please?
Jill making a very limited, but nonetheless welcome, appearance.
Everyone ending up in Vegas.
Ken's new girlfriend Barbie.
Paige and Evan becoming the first investors in Owen's comic book store.
Eddie R. and the fake ring. Poor guy knew how important tradition was to Paige that he tried to make something up to cover up the fact the Lawson's don't have many traditions.
Paige's wedding dress. So her!
What was your favorite part of the Royal wedding?
C. Charles is a TV Fanatic Staff Writer. Follow her on Twitter.