With over a week to process the twists and turns from an exhilarating Sons of Anarchy Season 5 finale - Tara is in jail?!? Clay is in jail?!? Tigs owns a dog?!? - it's time to breakdown another violent, crazy, Kurt Sutter-inspired ride.
Report Card style!
Read on for my evaluation of 13 intense episodes and then weigh in with your own grade of this year's SOA...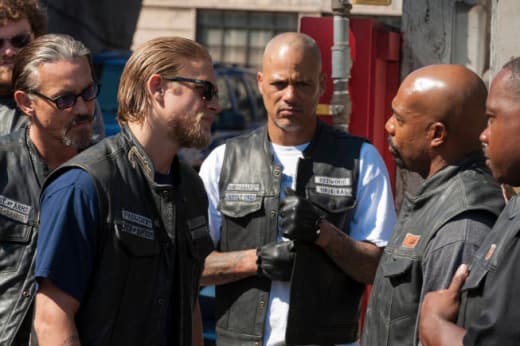 Best Character: Jax Teller. Is there really any other option? Season 5 was geared around Jax's presidency and the question of which path he'd choose. Any hope that he'd make his father's dreams come true were destroyed along with the back of Opie's head early on, however, and Charlie Hunnam excelled in depicting the angry melancholy that engulfed Jax for the rest of the run.
Worst Character: Juice. This may be the only show I watch about which I can say I truly like every single character. And I especially adore Theo Rossi in this role. But forced to choose a member of SAMCRO, Juice gets my vote because he can sometimes come across as too naive, first last season in believing that the club would care about his father's race; and then here with how willingly he followed around Clay.
Coolest Character: Nero Padilla.
Most Surprising Justified Cast Member to Guest Star in Drag: Walton Goggins.
Best Episode: "Laying Pipe." Jarring. Shocking. Brutal. Devastating. Opie may be gone, but his death episode and scene will live on forever.
Worst Episode: "Stolen Huffy." The action had to slow down after Opie's death, but this installment centered far too much on guest star Ashley Tisdale and gave us that contrived Carla beatdown by Tara and Gemma.
Most Gruesome Scene: Otto slicing off his own tongue. Yes, there actually was competition for this, considering dogs fought and dude's face was filled with nails on the season finale.
Hopes for Sons of Anarchy Season 6: We delve more into Lee Toric to ensure that character wasn't just thrown in as a plot device (NOTE: Donal Logue is signed for multiple episodes); Juice finally catches a break; Clay dies... it's about time, isn't it?
Overall Grade: A
Your turn, TV Fanatics: What grade would you give Sons of Anarchy Season 5?
Matt Richenthal is the Editor in Chief of TV Fanatic. Follow him on Twitter and on Google+.