"Panama Red"  had a few high moments but this episode of The Mentalist left me shaking my head more than once.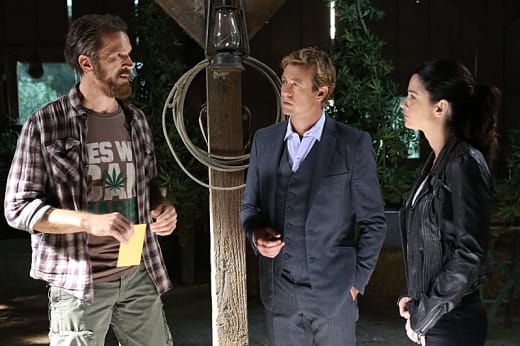 The most shocking moment was having Cho run into a very pregnant Summer during a raid with the Rapid Response Team.
I'd always liked Summer's quirkiness although I never believed she was a good long term match for show.  Bringing her back eight months pregnant with another man's baby just felt odd.
If her fiance Marshal had been a really great guy, maybe I would have felt differently but in the ten seconds that we had to meet him he came off as a bit of a jerk.  Then to find out he's the jealous type and that he doesn't know anything about Summer's past…well, let's just say I had been hoping for better for Summer.
I suppose they were looking for closure for Cho by bringing her back but in this instance, her return left me asking why they bothered.
Was the point to get Cho in trouble with the Rapid Response Team he's only been involved with for an episode or two?  When Agent Wade said she couldn't trust Cho all I could think was that she obviously didn't trust his judgement either.  He came to her first and told her Summer was his former CI and that he believed she wasn't involved yet Wade insisted on charging her anyway.  In my opinion, she didn't leave Cho a lot of choices but to go around her.
Rigsby was funny this week, even if he came off a little meaner than usual.  Apparently he's not a fan of any of the women in Cho's life.
I couldn't say he was wrong when he told Cho he dodged a bullet when he let Summer go but it came off more than a little snarky.  He also commented to Agent Wade in this The Mentalist quote…
If you're with the Rapid Response Team shouldn't you be sliding down fire poles, not hanging around here for 30 minutes? | permalink
Ouch!  Maybe he felt threatened that Wade was stealing his partner but he certainly made it clear he didn't want her hanging around.
The death of the botanist was mildly interesting. I found it amusing that Jeremy was so naive about his moonlighting work for big pharma.  When you cash their check (or in this case, several checks) they own your property and can do with it what they want. 
I enjoyed Jane's fascination with the puzzle box but I wished it had gone somewhere more interesting. 
My favorite part of the entire episode was Jane hiding Lisbon's keys in the box with the hope of watching her struggle to open it only to have her pull out a hammer and obliterate the thing in under ten seconds.
Jane: You keep a hammer in your desk?
Lisbon: You only think you know everything about me. | permalink
So very, very true.


C. Orlando is a TV Fanatic Staff Writer. Follow her on Twitter.