Happy holidays, TV Fanatics, and welcome to another edition of a staff Round Table.
After debating the Best Character of 2012 - along with Best Episode, Best Male Performance, Best Female Performance,  Best Couple, Best Villain, Best Feud and Best New Show - it's time to turn our attention to the sitcoms and answer the following query:
What was the funniest show of 2012?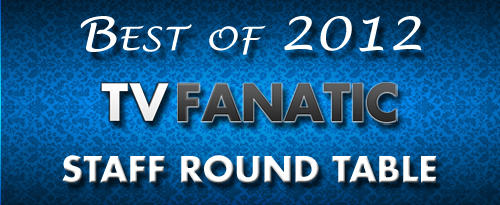 Kate Brooks: Happy Endings.
Gabrielle Moss: Bob's Burgers. If you're a fan of classic Simpsons-style wit, or a fan of alternative comedy (everyone from Sarah Silverman to Zach Galifianakis has done a guest voice), there is just no reason to sleep on this gem of a show.
Dan Forcella: It may go downhill without Dan Harmon, but for 2012 Community was the best comedy on television. The funniest and the most thought provoking.
Nick McHatton: Cougar Town.
Christine Orlando: Modern Family. From Jay to Luke, every generation is smart and I truly laugh with every episode.
Lisa Palmer: Girls. There's nothing remotely like it on television. Close second place goes to Parks and Recreation.
Leigh Raines: Happy Endings/New Girl tie. The actors are so underrated and at least New Girl is getting some recognition... but where is the love for Happy Endings?
Jim Garner: The Big Bang Theory. Look no further than this this Big Bang Theory clip for a great example of why this show is so awesome.
Chandel Charles: Psych. Not a single episode goes by that I'm not laughing every few minutes. The writers on that show are genius.
YOUR turn, TV Fanatics: What was the funniest show of 2012?