Tonight's American Idol takes us to the Charlotee, N.C., the city where Scotty McCreery was discovered. Will our judges uncover the next idol tonight?
Not if they can't stop being divas. 
Randy needs a new chair. Mariah needs ice. Keith needs his makeup adjusted. And Nicki needs an extra 6 feet of personal space to accommodate her hair. Just another day in the life, you know?
The sparks are flying and fireworks are imminent! Let's see how it all goes down now...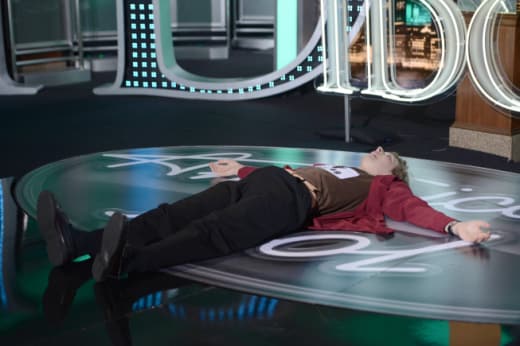 Naomi Morris is an fashion designer. Who apparently outfitted Shredder if her bra is any indication. She's starts the night off with a dud. 
Up next is Joel Nemoyer who watched Chris Daughtry lay down and sing in his mentoring session with Andrea Boticelli. He tells Nicki she looks like cotton candy and gets a mental high five from me for saying what I've been thinking for two weeks. He gets a "never" from Randy and then busts out of the room looking for his dad. Who isn't there. Which probably shouldn't have made me chuckle but did.
Brian Rittenberry is the first positive audition of the night. Hailing from Jasper, GA, his wife is a cancer survivor. It got a little dusty in my house during his intro. He sang "Let It Be" with a slight country twist and earned an easy golden ticket. See you in Hollywood, Brian!
Charlotte seems all about the aspiring country stars!
Jimmy Smith says that Keith Urban is one of his inspirations. (Finally! Someone who isn't there to see Mariah!) He chooses Rascal Flatts' "God Bless The Broken Road" and Nicki develops a new accent to say he's got something sweet in his voice that she likes in her country singers. He goes to Hollywood.
Brad Paisley-fan Matthew Muse likes to entertain with his eyes. And his awkward dancing. And it's not awesome. No, Matthew. It's a no.
Isabel Gonzalez was nominated by her aunt and Randy, the Dog himself, showed up to her high school to hand over her audition number. She's ready to ditch high school and go straight to Hollywood. Nicki loves it. Keith calls her a natural. Mariah says she's adorable. Randy jumps straight to voting. She's going to Hollywood.
Taisha Bethea is a lead singer for a rock band, which isn't what the judges expected. She gets mixed reviews from Mariah and Keith and they question whether or not she's really a rocker. Nicki says she doesn't have to make a decision about what music she wants to sing and she enjoys it. Nicki gives her a yes, Mariah gives her a no. Keith gives her a yes. Randy gives her a no. The deadlock means Keith gets a second vote? So he votes yes. She's going to Hollywood.
And here come the fireworks. After a long day of deadlocked voting and disagreement among the judging panel, the drama came to a head.
Summer Cunningham enters the room prepared to sing and have the judges decide her fate. But not before they could argue about country music and where she fits. Nicki says it doesn't matter where she wants to sing. Keith, Mariah, and Randy all tell her she's country. They finally give her her ticket to Hollywood and Nicki walks off the panel.
Here's my take: They're all right. Is Summer suited for country music? Maybe. But Nicki's right in that not every contestant who comes to them has to know where he or she fits in the vast expanse of the musical landscape. Some of them will know. Some of them won't. No big deal. Randy's right that their job as judges is to guide and help the contestants make decisions about their musical future, but does that really have to happen at the audition? 
Nicki walking off the panel was immature, but Randy's comment about his 30 years in the industry and Mariah's jab that at least she doesn't just talk about their outfits were out of line, too. 
After a night of sleep, and maybe a night cap or four, day two seems more calm.
Charlotte native and Navy Reservist Brandy Hamilton starts the day with an Etta James number. She's nervous but the judges love her. After receiving her golden ticket, she pleads with the judges "please don't fight. It makes us sad." Whether she was coached to say that or came up with it of her own volition, please don't fight, judges. 
Ashley Smith likes to have people look at her. She busts into interviews and talks loudly and is kind of obnoxious. And then she opens her mouth to sing and I find that I'm captivated. She sings "Cowboy Casanova" and it's amazing. She's going to Hollywood.
Continuing the run of country, Janelle Arthur got her start as a young Dolly Parton in a production at Dollywood when she was only 8 years old. She sings "Where the Blacktop Ends" and Keith loves it. So does Randy. She gets four yes votes and a hug from Keith and she's on her way.
Rodney Barber, "the voice of Charlotte," sings on the streets in downtown Charlotte. He's overcome homelessness and now helps those in the position he once found himself. He sings Edwin McCain's "I'll Be" and while it's not the best rendition of the song I've ever heard, he's got talent. He's going to Hollywood.
After being cut last year in Las Vegas, Candice Glover is returning for another round of auditions. She's got a big voice and gets a standing ovation from Randy and Mariah. Randy calls her the best audition of the day and Nicki says she's "obsessed." Mariah wishes she already had a record out. She's going to Hollywood.
Ja'Bria Barber likes to go frog gigging in her spare time. (Mark it now--if she makes it to the finals and the state of North Carolina sends her a bucket of deep fried frog legs I will probably have to stop watching.) She's got a solid voice and gets three easy yes votes from the judges who remain. 
Seretha Guinn has had a tough year. Her boyfriend was in an accident from which he's fought hard to recover. She's hopeful that she'll leave with a ticket to Hollywood to lift his spirits. With her daughter by her side, she sings her own version of "The Fresh Prince of Bel-Air." Her performance and her story brings Nicki to tears and she earns a unanimous yes.
And with that, Charlotte, which seemed like an incredibly talented stop, is a wrap. 
Who were your standouts? And what did you think of Nicki's tantrum? 
Miranda Wicker is a Staff Writer for TV Fanatic. Follow her on Twitter.