American Idol Review: Where The Winds Come Sweeping Down The Plain
Miranda Wicker at .
Finally! We've reached the end of the audition rounds for season 12 of American Idol. Tonight the judges make their final stop in Oklahoma, home of American Idol superstar Carrie Underwood.
Will they find talent? Or tumbleweeds? Let's find out now...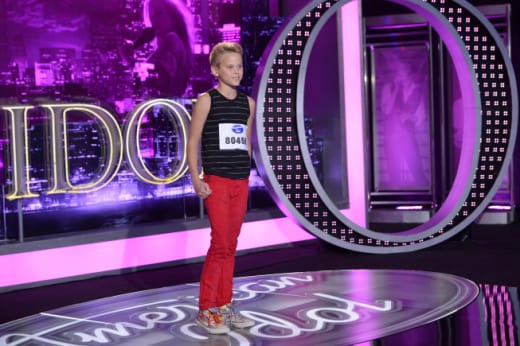 The first to audition is Karl Skinner from Joplin, MO. He's very emphatic. And when Keith asks him who he wants to be as an artist he says he wants to be "uncomparable." Mission accomplished, Karl. For reasons completely unbeknownst to me, the judges send him to Hollywood.
Nate Tao is an American Sign Language teacher. Both of his parents are deaf. He sings Stevie Wonder's "For Once In My Life" and there's a sweetness about him that's very likable. His voice isn't bad either. He gets four yes votes. And then Nate's dad teaches Ryan a couple of signs. I like him.
Ventriloquist Hayley Hilburn shows up with her puppet announcing "It's about time for someone crazy!" She sang a duet with Oscar her talking puppet dog and then dropped the puppet who tried to steal her spotlight to give a real audition. Once she dropped the gimmick, she got a golden ticket.
Zoanette Johnson decides to audition to the National Anthem "with flavor." Francis Scott Key is not a happy ghost right now. It's horrifying. And the judges give her a golden ticket. I wish you could see the face I was making, but if you were watching chances are good you were making the same face.
16 year old Caden Stevenson has cystic fibrosis, a terminal illness that gives him a life expectancy of about 35 years. He has a Michael Jackson vibe when he sings and the judges love him. It's a quick ticket to Hollywood for him.
Steven Tyler made a special appearance dressed in drag and wished the judges good luck this season. That was a special treat and I think I miss him just a little.
Overall, 44 golden tickets were handed out in Oklahoma, and next week we're headed to Hollywood to start whittling down the contestant pool to arrive at this year's hopefuls. Things will definitely get interesting as our judges start making cuts.
What do you think? Are you as eager as I am to get to the next round of American Idol?
Miranda Wicker is a Staff Writer for TV Fanatic. Follow her on Twitter.