Chicago Fire Review: Transfer, Trouble and Travel
Nick McHatton at .
Chicago Fire returned from its three-week break with "Warm and Dead," an episode that featured a shocking death, some travel troubles and Otis heading elsewhere.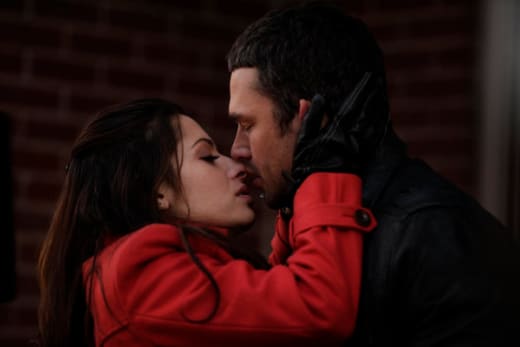 Kelly's decision to stay in Chicago to have the experimental surgery wasn't surprising, nor was it shocking that he chose to let Renee head to Madrid without him. How he came to those decisions, however, was probably one of the best moments of the hour, as he went to his father, Benny, for advice.
I still have plenty of love for Everwood and it's always fantastic to see Treat Williams step back into a similar father role; plus, seeing Williams give some fatherly advice to Kelly brought me back to the glory days of The WB for a few moments.
Putting aside my love for that network and getting towards Benny and Kelly, Benny's advice to Kelly seemed to wrap up every parental regret he had while still offering some very sound advice. His words to Kelly about not doing anything he doesn't want to do or might regret were very powerful.
Benny's advice put a mirror on Severide and his recent decisions. For a good portion of the season, he's mostly gone through the motions so long as he could keep his addiction to pain killers up. But now Severide has taken control of his life knowing the full weight of his choices and the consequences of them - and is working towards following a path of recovery.
The only worry now is with Kelly heading under the knife for spinal surgery is this: will his pain killer addiction be reignited?
Otis' decision to transfer to the quieter fire station has always seemed like something inevitable. As a character, we haven't gotten to know Otis very much and, aside form his podcast and his pranks, he's been mostly relegated to the back while some of the other "background" firefighters have gotten their own arcs. Maybe this is the beginning of an Otis-centric arc, but, if it isn't, I can't say I'm surprised to potentially see him go.
Finally, we got to see Casey testify for his mother at her parole hearing and once again we were treated to all the best that Casey has to offer. His speech even moved his unmovable sister, but the only wrinkle now is Casey needs to offer his mom a safe and structured space so she can fulfill her parole.
I'm curious what kind of wrinkle this adds to the Casey-Dawson-Mills triangle as Dawson has mostly been going back and forth between them. She's almost fulfilling two different roles between the two of them: Flirty and fun with Mills, and supportive and helpful to Casey.
Other Thoughts
Chief Boden's worry over Ernie and the dangerous situation he's in with his Uncle was heartbreaking. Boden tried to save the boy, and to get to the bottom of his situation, but in the end he didn't get there fast enough.
Does this mean they keep the dog?
It might be on page one of the handbook, but I think Shay should get more use out of her taser.
NBC this week added an additional episode to Chicago Fire Season 1's total. Bringing the total episode count up to 23.