It can be a little embarrassing watching Downton Abbey when you don't know your foreign history to the extent you should - and I experienced a bit of that with episode 303.
Thankfully, instead of Tom Branson's involvement with events in Ireland having any deep meaning, they were introduced more as a way to instigate trouble between Tom and the Grantham family and question whether Sybil's decision to run away with a man she barely knew was the best idea she ever had.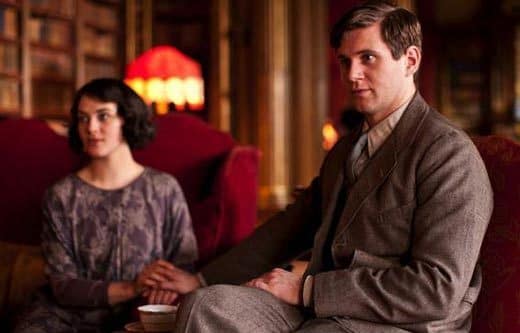 As it happened, Tom ran pounding on the door, in the rain without a coat no less at Downton Abbey, having left Sybil, a pregnant woman, behind in Dublin to fend for herself after Tom was present at a castle burning. Given the conversations Robert was having with his pals about the Catholics, I can only surmise the two matters are related (as I do know enough about Ireland to understand the Protestant/Catholic issues). It wasn't Tom's politics that got him in trouble, however, it was his treatment of Sybil.
Despite the fact that some poor folks were cast out of their home and it was burned to the ground, Violet managed to make merry of the situation by pointing out that the house was ugly, even if it wasn't an excuse for his actions. An entire post could be written with only Downton Abbey quotes and I don't think anyone would be disappointed. The end result was Tom and Sybil have been banned from Dublin, lest he want to spend the rest of his life in prison.
Given his love of country, I foresee a future in stripes for Mr. Branson and Sybil raising her child with family.
Speaking of prison, it was good to know that neither Anna nor Bates has discontinued their letter writing to each other, and it was his status as "out of favor" that kept the mail from flowing. At first it appeared he has stopped writing to her because he hadn't received any letters, and I was about to blow my top. I was happy to be wrong, but still not all that interested in their story. Could their love story have taken a worse turn? I don't think so. Even his dealing with prison is barely digestible. 
There were a couple new faces at Downton, a footman and a Kitchen maid. We got to know the footman a bit because he was a handsome little bugger, and Mary decided he would be made lead footman to make the maids happy and give them a Valentine. It was kind of a shame, because despite his relation to Miss O'Brien (as Carson also pointed out) he was asking for help to be a better footman and he's charming, to boot.
Daisy even realized his better qualities and decided to make a move, just as she was promoted to assistant cook and Alfred took note of the new kitchen maid. Seriously, Daisy has some bad love karma floating in the ether. Another delightful new addition to the household was Mrs. Hughes' electric toaster. I was in awe of Carson comparing the acquisition to harboring a dangerous revolutionary. 
It's very sweet what Isobel is doing for the woman who have found themselves working the streets, and it's a nice tie-in that we get to see the way it's working out through Ethel. Not only did Isobel disagree with Ethel's decision, she did the same with Mrs. Hughe's comment that Ethel was on the road to ruin and there was no way back. I have a feeling Isobel will save Ethel. I don't know how or when, but it seems Ethel's redemption is in Isobel's hands. It always seemed Ethel got the short end of the stick, so it would be nice for her to get just a little happiness out of her hard life.
Edith stopped her whining and found something to do, much to Robert's dismay. She decided if American women were getting the vote, then so should the British and she found the courage to write her opinion to The Times. Robert thought there wasn't a snowball's chance they would publish it, so she was chuffed to bits when he read aloud the headline mirroring her thoughts.
Has Edith finally found a calling? She surely deserves to find something to satisfy her busy mind and to keep her from falling for another unsuitable man. She's better than that.
Finally, poor Matthew was expecting a different conversation when he was called to what was formerly the nursery by Mary than the one he received when he arrived. She had decided to turn it into their own sitting room. Let's be honest, they barely knew each other despite all the love they tossed back and forth. Did they ever discuss children? Apparently not.
Matthew also threw his money into Downton without having a look at the books first. Now that he has, he's seeing how horribly it's being managed and went to Violet for help. Her suggestion was to get people's noses out of joint and do what has to be done. Good advice really. How many times can Downton fall onto hard times before the mismanagement pounds them over their collective heads? Unless I'm wrong, it's Cora who manages Downton, isn't it? That should guarantee at least three noses in suffering in short order. 
It was a nice stepping off episode, gathering up for some coming storms. The Downton finances, Edith's possible future in the suffragette movement, a couple marriages in peril and the regular household staff drama. Share your thoughts in the comments!
Carissa Pavlica is the managing editor and a staff writer for TV Fanatic. Follow her on Twitter.