Drop Dead Diva Exclusive: 5 Reasons for a 5th Season
Jim Halterman at .
With fans anxiously awaiting word on a renewal for Drop Dead Diva, TV Fanatic checked in this week with creator Josh Berman.
Why should Lifetime and Sony give this drama a fifth season? Berman has come up with five reasons. Let's hope executives are listening...
----------------------------------------
New Jane vs. Old Jane? "We ended season four on a cliffhanger like we've never done before on the show," said Berman, adding that Jane's love life will be explored in a fifth season like never before. "There is a love triangle between Jane, Owen and Grayson yet with the added complication of old Jane returning."
Big Drama! Raw Emotions! Berman explained that the season five "drama will be more heightened, the emotions more raw and the introduction of a woman (old Jane) that we've never met into this love triangle will enable me to tell stories in a very fresh and inventive way that hasn't been done yet on Drop Dead Diva. It feels like everything has been leading up to season five."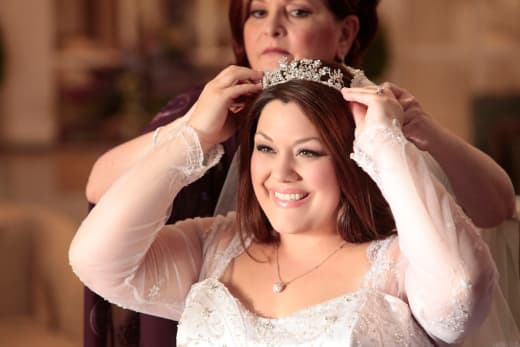 Passionate Fans Being an alumnus of such buzz-worthy shows as CSI and Bones, Berman knows Drop Dead Diva fans are special: "I've never seen anything like the fans for Drop Dead Diva," he said. "They hang on every word of the show, they're so excited about a new season."
Besides recent YouTube videos supporting the show, there is also a "renew DDD" petition on the Web, so fans can let Lifetime know they're serious about getting their fifth season. Yahoo also ranked DDD as a Top Ten search for TV comedies in 2012, alongside hits like The Big Bang Theory and Modern Family.
Big Names Want to Appear While we've seen Paula Abdul, Rosie O'Donnell, Kim Kardashian and Louis Van Amstel pop up on the show, more people than ever want to guest. "Once we were nominated for a Humanitas Award," Berman explained, "we weren't just a commercial show but actors started seeing this as a real destination place for them. I think with season five we're going to have a whole new crew of guest stars who are going to help elevate the show even more."
Ratings/DVR Numbers Live +3 (live airing rating, plus DVR viewing up to three days after) for Adults 18-49 are strong for the show and DDD even saw a 14% climb last season. DDD also continued to grow in its fourth season, even though it was airing against the Olympics and broadcast's fall premieres.
Research shows that of 30 cable series that returned last year, only six (The Walking Dead, Mad Men, Sons of Anarchy, Breaking Bad, Being Human and – you guessed it – Drop Dead Diva) actually saw growth in their year-to-year numbers. Impressive!
So there you have it, TV Fanatics. Do you want to see Drop Dead Diva Season 5? Make your voice heard!
Jim Halterman is the West Coast Editor of TV Fanatic and the owner of JimHalterman.com. Follow him on Twitter.