My Thursdays seem meaningful again now that Elementary has returned! "Dirty Laundry" was the second-half starter and it was a great way to get things back and running. 
This episode was a prime example of the kind of loops that this show can take you through; from a woman being murdered and thrown into a washer... to prostitution rings a Russian spy. Yes, Elementary knows how to keep it fresh.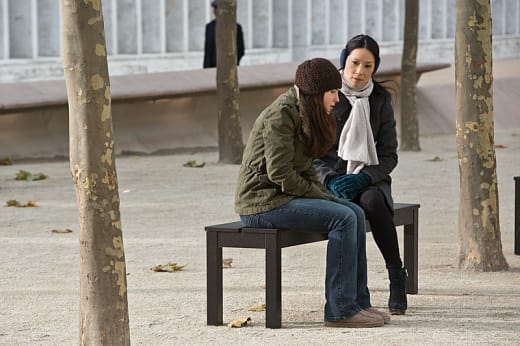 The investigation was as entertaining as always. The Russian spy angle is something I would have never seen coming in a million years. The fact that her handler is the one that killed her kind of blows me away. Why? Well, having been an avid Chuck fan, I'm not used to seeing a handler being the kind of person who would kill you rather than fall in love with you.
I was predicting that the daughter was the one who killed the mother, but I was thinking it was more along lines of it being intentional and not an accident. It was really nice seeing Joan in her companion form with the daughter; it seemed so natural for her to be so caring toward someone. Viewers don't really get to see that kind of comforting between Joan and Sherlock, only because Holmes isn't needy. 
As the time nears for Watson to leave, I keep waiting for that pivotal moment that makes her stay. Some of the best parts of episode were when Sherlock kept proposing to her over and over again for her to be his apprentice. I was begging Sherlock to just come out with it: "Watson, I want you to stay." But he wouldn't be Sherlock Holmes if he did that, now would he? 
I am still loving the dynamic between these two. This is one of Elementarys' best assets. Their chemistry is played perfectly and lines delivered so fluidly. Kudos to Johnny Lee Miller and Lucy Lui once again. 
The last scene broke my heart. Why? Am I the only one who noticed Holmes' brief downtrodden expression? I don't think Joan is getting the hint that he's serious about her staying and when he proposed they lie to his father so she could stay... Ah! Watson get it already, will ya?!?
Overall, this was a fantastic episode to open up with after a short hiatus. And I have a prediction for next week:
Having a ru- in with Moriarity will obviously bring up Irene Adler, which may cause Sherlock to relapse. I think we all know what happens if Holmes' relapses don't we? Joan stays. I haven't decided if I want him to go there for that reason or not, it's predictable and the writers of Elementary are just the opposite.
Still, I look forward to the reveal.