Happy Endings Review: Jane's Not-So Phase
Kate Brooks at .
On "The Ex-Factor," it was discovered that Jane's lesbianism exactly a phase when her ex-girlfriend, Ryan, stops by while the rest of the six-pack are off enjoying their own comedic story lines.
Brad and Jane are so open and honest with each other that they're allowed a dinner when each of their exes are in town, even when one turns out to be a gorgeous female instead of a dude. Get these two an award because they're the best married couple on TV.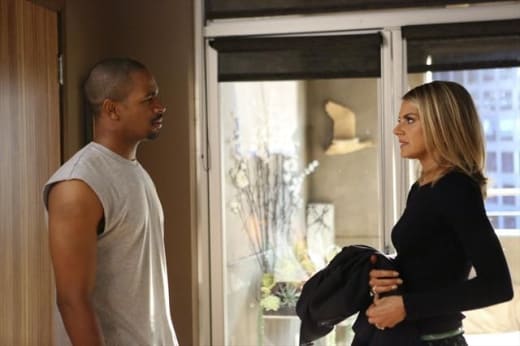 But it was all fun and games until it was revealed that Jane did indeed love Ryan, which begged to question: which gender is she actually into? Brad then invited his ex, Melissa, over for dinner along with Ryan. It was a battle of the pasts when Brad crossed the line by revealing that he and Melissa went as far as socks off sex.
Hysterical is the only word I can use to describe their scenes this week. Jane Kerkovich is at the top of her game on Happy Endings Season 3. Blame Eliza Coupe, she's one bad chick. She's on a whole new level and it works every single episode. I am a Jane Kerkovich fangirl.
Meanwhile, Penny was trying to hang out with Pete's group of friends, who were not so "amahzing." They didn't approve of Penny's pile on insults and comedic ways. Bitches, please, Penny is way better than all of you, so take your stank eye and move it elsewhere. Pete, you're a good looking guy who is sweet, funny and kind; you deserve better friends.
Though, admittedly it was nice to see one of the six friends venture out and hang out with a whole new set group of pals. I know we've seen Jane and Brad with work friends, but never anything like Pete's friend. They were boring.
Can we all say how sexy Chase was? Hello, guest star Mark-Paul Gosselaar! Age has treated you well because I don't remember you being that pretty on Saved by the Bell. I loved just how determined Alex, Max and Dave were to befriend Chase and bring him into their circle. I think everyone knew it would backfire and miserably.
I hope that his threat to Max means that he will be back. That is, if this show lasts.
Which has me thinking: What is wrong with the world? How are more people not watching Happy Endings? This sitcom is so brilliant. It's my favorite comedy on TV right now. You don't find six characters like Jane, Brad, Alex, Penny, Dave and Max very often that mesh perfectly together.
You have Alex, who never catches on but is smart in the stupidest way - and her equal is Dave because he's just as dumb, but together they're smart. Then there's Penny, who is the creative, naive, but installment one - and Max is her equal who fills her need for drama. My favorite are Jane and Brad, who love each other so very much.
I'll be terribly sad if this goes. Pass along the word to watch Happy Endings. It's great comedy.