For those who didn't know, ABC and its weird scheduling left out an episode at the end of Happy Endings Season 2 called "Kickball 2: The Kickening."
It aired in the UK and could be found online, but now that we're getting a weekly double dose of our favorite friends from Chicago, ABC decided to let the episode see the light of day on a Sunday evening.
Good thing because the Happy Endings crew brought its A game to the kickball tournament! Of course, I mean their A game in entertainment - because this group is not really a collection of fine athletes if we're being honest. In fact, they're pretty sad.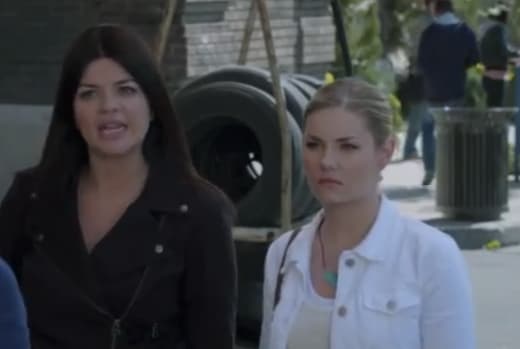 Alex's store "Xela" sponsored the team. It's pronounced Shayla which, I don't think I ever even realized, nor did her best friends.
I didn't even know you could pronounce the name of your store. I thought it was a four letter Celtic symbol for failure. | permalink
Nice Dave, nice. We all know that Alex doesn't run the most successful store around, but it was a nice gesture. Unfortunately, it was too late for the competitive Jane, who had already signed up to play on the autobody shop's team. And we all know that once Jane commits, she commits.
Pissed that Jane was a traitor, Penny treated us to a hilarious Miami Heat joke (not the first from these writers) when she referred to Jane as "LeBlonde Jane." Lebron James traitor jokes just never get old, especially for this New Yorker. 
Jane likes to be on a winning team and the Xela crew is just not the best around. Penny wants to play in 6-inch heels so she can attract a guy, Dave has the yips from an incident when he hit Penny in the head with a ball, Brad only knows how to bunt and Max has delegated himself to the manager role. Then there's  Scotty, who is addicted to steroids and is a hot mess who is physically falling apart by a second.
I love Happy Endings episodes that combine all of the friends together in the same storyline. Plus, with a number of good Happy Endings quotes, this lost episode was a treat!
The guest starring gig of Lance Briggs of the Chicago Bears was a good touch, as was the flashback rivalry between the Kerkovich sisters. 
While the episode seemed a little out of place considering it was from last season, I'm still glad they aired it. Did you enjoy the lost Happy Endings kickball episode?