Like an order of sweet-and-sour chicken, "Hana I Wa'la (Scandal)" satisfied all our conflicting urges at once.
Looking for action? We had some serious, seat-of-the-pants action. Looking for tear-jerking moments? We had some classic courtroom tear-jerking. Looking for Wo Fat? Oh, how we had Wo Fat! Looking for bromance? Man, that tie-straightening moment... do not even get me started.
Like a well-mixed handful of trail mix, this episode had all the things we enjoy, in perfect, complementary proportion to each other. Delish! (Can you tell I haven't eaten dinner yet?)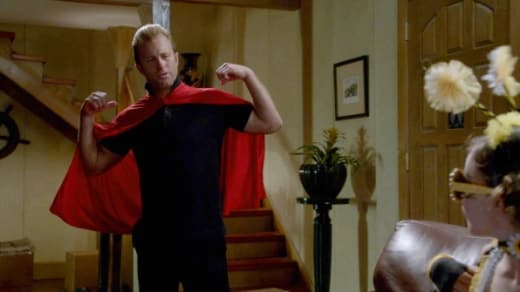 The Sour: A more eagle-eyed viewer than myself would have probably picked up that Wo Fat was in the show's opening moments. But I was along for the whole ride, certain that the congressman had done it. Hell, at one point, I even believed that total red herring professor was the murderer!
The fast pacing swept me along, and the Wo Fat reveal was shocking (to me; if you were clever enough to pick him out in the opening, please reward yourself with one cookie). The episode's post-reveal transformation into a race-against-the-clock scenario was similarly gripping, and I was excited to see Freed run like crazy for his life (I mean, I was happy to see him get out alive, though! I'm not a monster. Just hungry).
The Sweet: Danny's speech in the courtroom about Grace? Uh, excuse me for a sec, I have something in my eye (fine, you win, that something in my eye was a tear). The entire courtroom sequence, in just a few moments, showed off all the emotional nougat at the center of this series: the value of family, and the value of friends who feel like family.
Yes, all this gushy stuff did not slow Danny down from delivering all the sassy Hawaii Five-0 quotes that we know and love, but the reminder of his softer side certainly added an extra level to his dead hooker quips.
Five-0's daring last-second helicopter save of Congressman Freed reminded me of what makes Hawaii Five-0 different from so many other crime shows these days. This isn't a show about cynical crime lab technicians pointing the finger at the villain who has already committed heinous crime upon heinous crime; it's a show where the good guys can still, sometimes, be strong and be right and stop the bad guys. And though I am certainly a fan of cynical lab techs - as some nerd sitting here, blogging away about how hungry I am for trail mix, I'm certainly closer to them than I am to Steve McGarrett - it is so nice to live, even for just an hour, in a universe where the good guys can still sometimes just win. To Hawaii!
What do you think Wo Fat's next move is going to be? Did you notice it was Wo Fat in the beginning (because you're smarter than me)?