"Damn the Torpedoes" shuffled alliances and turned enemies into uneasy partners, if not quite friends. Let's run it down, shall we?
Sam's Grief Sam was guilt ridden over the loss of Christine and he took it out on Sophie, as he bluntly asked her in one of many unforgettable Last Resort quotes…
You want to jump in the sack? You want to screw the pain away? | permalink
Well, you can't say he's not direct because that's all anything between them would be in this moment. He's not capable of friendship and anything else would be using her to dull the pain. 
But Sophie wasn't scared away. She's not afraid of messy and complicated. Obviously not if she's still playing footsie with Julian.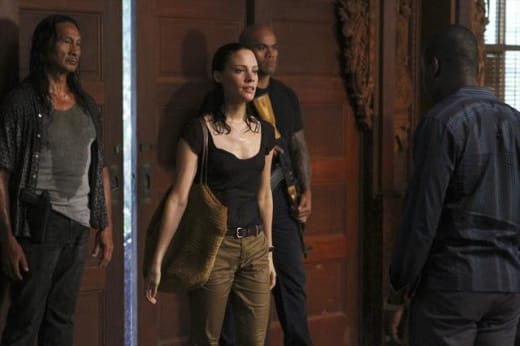 Julian wants her. If he didn't, he'd probably have killed her for her deception. I couldn't figure out what Sophie's plan was with Serrat, but I hope she has a good one. He may put on a charming smile but he's a dangerous man who will turn ruthless when crossed. If he doesn't get what he wants, I'm sure his patience with Sophie will be short lived.
Kylie's Play Back in Washington D.C. a different kind of Hell was breaking loose. Kylie, the Admiral and several others had their proof and were looking to overthrow the President of the United States. 
And just how did the Admiral walk out of a prison cell? His only explanation was that he had friends in low places. That wasn't enough for me. I know there's not much time left for Last Resort and some things will have to happen off screen, but I wanted at least a couple more sentences of explanation. The lack of info left me very unsatisfied.
The return of Kylie's ex left me cold. Again, I'd guess tying up all of these loose ends will be difficult but watching him wipe the blood off of Kylie had me wishing he hadn't returned at all.
Marcus' Enemies Marcus found himself surrounded and friends were hard to find. The Chinese would deliver the supplies only if Marcus took on his own government to get them there. 
Grace played hero by delaying Marcus' order but permanently hurt his trust in her. Was it worth it? Of course. She saved hundreds of lives but Marcus may never look at her the same way again.
Chaplin finally confronted Cortez. How long has he known she was the CIA's spy? We may never know.
I felt more for her than I expected. When she took on the role of CIA spy I'm certain she never expected to be called into action. Who would ever believe a US Navy nuclear submarine Captain would go rogue? It just goes to prove the saying: never say never.
Did anyone else think Marcus was going to kiss her at the end? It looked like it came close. I can't tell you how relieved I was that they didn't go that way. That may have changed my perception of Marcus more than anything else.
The Captain has one more enemy he might not even be aware of. Has Sam gone over to the dark side? Was he playing both sides when he was plotting with Prosser? And how strong is Prosser's hold on his pain/drug issues?
Is James right? Is Marcus a man who won't ring that bell, under any circumstances? With two episodes to go it's looks like we're bound to find out.
C. Orlando is a TV Fanatic Staff Writer. Follow her on Twitter.