This was by the far the funniest of the first three episodes of Legit.
Frankly, the concept of picking up chicks is simpler than taking Billy to lose his virginity or breaking Billy out of the rest home. Not that those are so over the top they couldn't happen, but it's clear that you can have plenty of hilarity when doing something basic to which everyone (more so geared toward guys in this instance) can immediately relate.
"Love" started out all nice and innocent with Jim doing his best "1950's Dad" impression and schooling Billy and Steve in the easy steps to attracting a woman.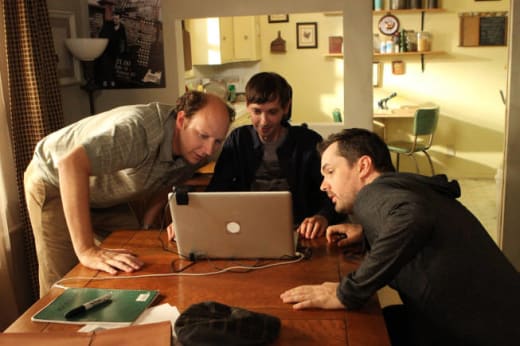 The "1950's Dad" was a little cheesy, but the rest of Jim's spiel was top notch, while really allowing his personality and comedic performance to shine. Of course, Billy and Steve took Jim's "words of wisdom" to different measures, each with humorous fashion.
Steve managed to attract the allure of Lauren in accounting by repetitively commenting on her eyes, hitting on her less attractive friend and saying nothing to be mysterious when really he just has nothing to say. It just happened to work and seeing Steve be the cool guy itself also worked.
Then there was Billy's run at the dating life. Sure, he has muscular dystrophy, but that can't stop him from online dating, right? And, thus, zaniness ensued from creating an online profile to finally meeting the Australian girl of his dreams.
Luckily, Billy learned to use his skills of talking to women rather than using Jim's rules - and surprisingly things turn sexual really fast. I know it's a half hour episode, but wow, Billy has skills.
Or maybe it's because he looked like that guy from Roadtrip.
Jim got to make a lot of amusing faces while hiding behind the computer and assisting Billy/trying to get a look at the women. Heck, even his comments about Australian women and the sounds they make during sex made me laugh out loud.
But the moment that will forever haunt our memories turned this episode into an outrageous classic: Jim taking the best friend role in order to masturbate Billy so his new online girlfriend could see.
It's that twisted spin of positive and negative that serve to deliver viewers with laughs and certainly succeeding.
Of course, Legit doesn't quit while its ahead (and in this case, it works out) by having everyone walk in on Jim and Billy. Cue wonderful awkwardness before Billy learns his girl has a secret too. I guess you could say it was a double catfish?
Either way, Jim learns that women do have dreams and feelings, so you could certainly chalk it up to another event that's put Jim on a better path.
Not sure how Legit will top the "helping hand," but once again with a trio of characters that you can't help but love and shocking situations that you can't help but laugh it, I've got high hopes this brand new FX series will find a way.
Sean McKenna was a TV Fanatic Staff Writer. He retired in May of 2017. Follow him on Twitter.