Legit Series Premiere: What Did You Think?

Sean McKenna at .
Let me put this out there: Legit is not for everyone.
The boundary-pushing comedy joins the ranks of FX's other shows - like It's Always Sunny in Philadelphia and Louie - in providing a half hour of jokes and situations you never thought you might laugh at, but can't seem to help doing so.
Australian stand-up comic Jim Jefferies headlines the sitcom by playing a version of himself: a self-absorbed, crude and plenty blunt comedian who wants to become "legitimate" in life because of his mother's dying wish. Although this isn't the first time she's been dying, apparently.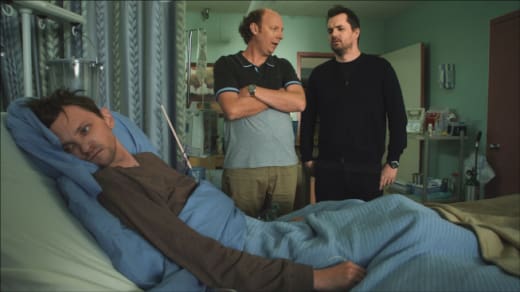 Of course, taking this task to cleaning up his life ends up involving the straight-laced, clown-haired best friend, Steve (played by Dan Bakkedahl), and Steve's brother, Billy (played by DJ Qualls) who happens to have muscular dystrophy.
Yet, even with the oddity of the characters themselves and the situations they seem to find themselves in, Jim, Steve and Billy are all charming in their own ways.
Sure, Jim can be pretty deplorable, but his heart is in the right place. Who else would jump at the chance to help the sick Billy have sex for the first time, albeit with a ditzy hooker?
Steve is only looking out for his brother, despite all the signs that seem to point to Jim's ideas being bad ones. What happens if Billy dies from the sex?
And then there's Billy, who "leaves the room" by turning his head to the side because, well, he can't move any other part of his body, but he has a genuine charisma that's overall positive in the negative situation.
In a lot of ways, you can't help but root for each of these men, who have their own specific flaws that they try and overcome by helping each other out.
The whole pilot's plot of taking Billy to see the hooker, along with his color blindness and anaconda penis, are taken from Jefferies' stand up comedy routine and his real life experiences. Maybe it's just me, but I find Jefferies telling of the story to be a bit better than what takes place on screen, but the awkward situation still manages to be funny and heartfelt at the same time.
Even the car ride on the way to the brothel is hilarious, though you feel you might be laughing at something you shouldn't. Driving away with Billy chasing after them in the wheelchair? Having Billy pretend to masturbate?
But it's the final moments of Jim feeling confident and well done about his good deed, all the while contemplating the ways in which Billy works as the perfect wingman, that really seals the deal for what the tone is for all the outrageous things to come from this trio.
The pilot itself isn't necessarily a prized stallion right out of the gate, but as the episodes go on (I've seen the first three), you begin to get a sense of what type of show this can end up wondrously being. There's a lot of promise here with topics you never thought you'd get to see or laugh at.
It's going to be a long hard road for Jim to become a better person, but with the likable cast and a road full of gross, heartfelt, and funny moments, Legit looks to be a legitimate addition to the FX comedy lineup.
Sean McKenna was a TV Fanatic Staff Writer. He retired in May of 2017. Follow him on Twitter.