"SubterrFaenean" was the episode of shake-ups!
Bo and Lauren were hot, hot, hot! Perhaps, more importantly, they are officially together and proved their compatibility between the sheets. When Bo went out to work, was Lauren left waiting for her in bed?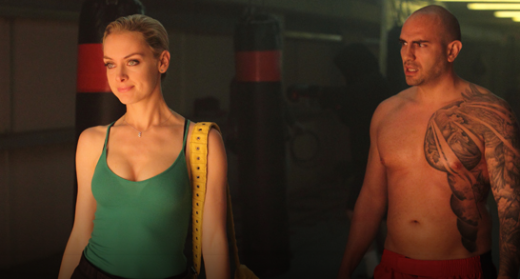 It was a bit odd that we didn't see the doctor again. Bo and Lauren's partnership will be a complicated one. Bo's a succubus, so she's not naturally monogamous; plus, if she's not careful, she could easily kill Lauren with her love. And then there's the darkness inside Bo.
Bo has been waking up due to nightmares, which seem to be related to her nearly killing a guy on the street when Dark Bo took over. Complicating the issue, she has amnesia, but she's going to have to face it at some point.
Dyson was assigned a new partner, Tamsin, who made quite an impressive entrance and introduction at the boxing ring. She's a rough one and will rival Bo for power and influence in the group. It's a risky decision to partner Dyson with anyone, but a Dark Fae partner is just asking for trouble.
Tamsin was all over Bo about the Dark Fae she went all succubus on and she's not going to let it go. Neither Bo's denial nor Dyson's alibi will deter Tamsin from the truth. How much of a problem will Bo end up being between the new partners?
It's going to be quite a ride balancing the personal feelings between Dyson, B, and Tamsin and the professional interactions. Their jobs almost require that they collaborate at times. As much as Tamsin tried to keep Bo out of the Sewer Alligator case, she was unsuccessful.
Bo was drawn into the case because Kenzi's human friend was involved and then went missing. The abductions were blamed on Fae that were quarantined in the sewers, though Atticus insisted that they were not involved. The double twist created a surprising end. Not only were the quarantined Fae not abducting people, but they were falsely held there to begin with years prior.
When Dyson's Fae boss showed up, I thought it meant we would be seeing more of the official side of his job, especially with a new partner. Nope. Instead, the boss appeared for a few minutes, so he could be the villain. Couldn't he have at least been introduced last week so we cared?
The humans were found, the pied piper was captured and the Fae world's secret was protected for another day. Bo's secret was another story entirely. 
Trick brought in a Dream Weaver to help Bo with her bad dreams. That may not have been a good idea, though, as the Weaver left in a panic after seeing what was in Bo's mind. That freaked Bo out as well. Will the Weaver tell someone? Or keep it to herself?
Bo's life is headed for disaster and she has no clue how bad it's going to get. At some point, she's going to find out that Dyson got his love back for her, Tamsin isn't going to let up on the succubused Dark Fae and trouble will most likely hit Bo and Lauren's relationship. It's going to be a rough time for her and she will have to lean on her friends and family.
The introduction of Tamsin is the shake-up that Lost Girl needed. She is going to cause trouble wherever she goes. Though I hope she doesn't hook up with Dyson, perhaps she'd be a good match for Bo's new roommate, Vex!
Bo: Know this, if you go near my girlfriend, the little balls hanging from the Christmas tree next to you will have a certain panache.
Vex: Hook up illegal cable and what do I get? Threats against my junk. Typical. | permalink

Bo: Why are people always lying to me? | permalink
How big a threat is Tamsin to Bo? And will she cause Bo more trouble in her love life or with the darkness within her? 
Carla Day is a staff writer for TV Fanatic. Follow her on Twitter and on Google+.