Private Practice came to a tearful conclusion last Tuesday, as Addison married Jake and Sam married Naomi.
But our Round Table panel can't say goodbye just yet. TV Fanatic staff writers Carissa Pavlica and Christina Tran are joined one final time by three fans below as they break down the emotions and the developments behind 'In Which We Say Goodbye."
-------------------------------------------
What was your favorite quote or scene from this episode?
Jarrod: Probably the ending. I could poke holes and point out the flaws of what was wrong with the episode, but in the end all at the practice was happy. Naomi has moved back to L.A. and is working at the practice and everyone has gotten his/her happy-ever-afters.
Caitlyn: I'll have to agree with Jarrod. The final scene was really great. There was something comforting about seeing all the characters in the kitchen discussing a case and then criticizing "Private Practice" as Violet's book title. Those kitchen conversations have been a huge part of the dynamics in Private Practice, so seeing them there again was satisfying. I got the feeling that life will go on for these characters as they have before, but they're all in a happy and stable place in their lives.
Beina: I loved Addison's video message and the part where they showed the Freedman family in bed.
Carissa: I'm a sucker for the little happy ending montages, so I was up for the final five minutes running by everyone for the last time and discovering Addison was talking into Sam's wedding camera. Very appropriate!
Christina: I'm with Jarrod and Caitlyn. I loved that final moment seeing the practice laugh and joke with one another one final time.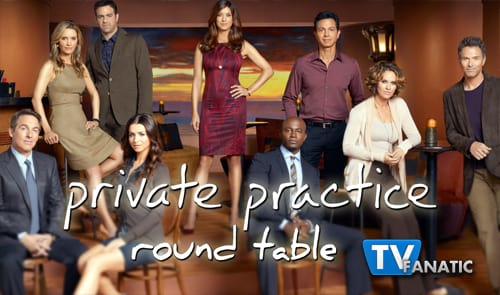 Which character's happy ending were you most glad to see?
Jarrod: Probably Sam and Naomi. I always had hope for these two and the finale was basically all about them rekindling and starting over again; new baby and all. Addison got her child, her man and her career, so as long as Addison got everything she needed, I was content for all of the other characters to eventually find theirs.
Caitlyn: I was definitely glad to see Charlotte and Cooper with their happy ending. Although I expected something like this, it was still satisfying to actually see them as a happy and close-to-functioning family. Other than that, Addison's, as well as Sheldon's because his was a tough story to end on a happy and comforting note.
Beina: Addison. Finally she found the right man and she deserved it.
Carissa: All of them. I was particularly glad that Sam got his happy ending with Naomi because she had chosen to leave the show. It was a nice shout out to how it all started.
Christina: I, too, was happy for everyone. It's hard not to root for Addie after all these years, and I especially liked that the Cooplets were all perfectly fine.
What was the one thing you wanted to see but didn't happen?
Jarrod: I hoped for a flash-forward of Sheldon and Violet together! Though a stretch, they were the only two who suffered real loss this season and I hoped that down the line they'd continue their relationship that was all the way back in Private Practice Season 2. I also hope Sheldon will take his job back and he and Violet will rekindle. Another flaw was the lack of children and baby Henry! After all, the show was about Addison getting her baby, so where was he?
Caitlyn: I really wanted to see two things: Addison and Jake working as a family with Henry and a scene that would encapsulate the relationship of Charlotte and Cooper. I thought that more than knowing Addison got her happy ending by getting married to Jake, I wanted to see them as a family. And it was really unfortunate that Henry was MIA. As for CharCoop, I know that the scene I want has been shot and is out there. It's frustrating that we didn't get to see it because I think these two really deserved more screen time after all they've been through. Now I'm just really relying on the DVD's deleted scenes.
Beina: Other than the cut scenes by Shonda Rhimes, I'd have liked to see Addison and Jake's honeymoon.
Carissa: It would have been nice to remember all those we lost during the run of the show. Heck, I can't even remember the names. The dude from Veronica Mars? Dell! Pete... just a more proper montage as Violet decided to name her book after the title "Private Practice," since they were a part of what made the show a success.
Christina: I second what Caitlyn said. With Henry MIA, we missed a key element to fully seeing Addison's happily ever after.
What will you miss the most about Private Practice?
Jarrod: The blend of humor and drama. Grey's Anatomy had it and lost it. My most enjoyable thing was how far the writers were willing to go and how controversial they made the show. Though the series was never a huge hit, it made its point when Violet had her baby cut out of her! Honestly, that scene got this show on the map!
Caitlyn: I'll miss the way that the series developed its characters. We've joined these people on their journeys and I have loved seeing them grow. I have to give emphasis on Charlotte King because the way this character was written and developed was just phenomenal. I believed and felt everything that she was going through and that's a gift for a viewer. The show was able to do this with all characters but most strikingly with her. I'll definitely miss this kind of development. And of course the CharCoop relationship.
Beina: The conversations in the kitchen but also the love stories of Addison.
Carissa: The friendships. And seeing Kate Walsh and KaDee Strickland every week. I love those women.
Christina: I will miss the characters, the daring medical storylines, and having the opportunity to review such a remarkable show. I'll also miss this… rehashing what went down and hanging for a moment with my co-Round Tablers.
Rate the Private Practice series finale on a scale of 1-5.
Jarrod: 4.5 I loved it, I did, but I feel as though they still could have done more and given each character time together instead of focusing way too much on a things. Naomi and Sam, for example. Yes, they were in love and got back together, but the speech was just way too similar to what he told Addison in the Private Practice 5 finale. The whole episode was rushed and, though it was amazing, some characters just really deserved that bow out, too.
Caitlyn: I'll give it a 4.5, too. After watching it, I felt really satisfied in knowing that even if we were saying goodbye to these characters, we knew that they would be okay. That was very comforting. I really appreciated how everyone got their happy endings - even Sheldon's whose story was rather bittersweet. I felt like the characters had really ended significant journeys in their lives and they were all moving forward. What I felt lacked in this was Henry and CharCoop. I needed to see Addison with Henry. It was great to see Sam and Naomi get together again because it felt right. But at the same time, it felt rushed and overstretched. The finale was great, but I really need those deleted scenes.
Beina: 5!
Carissa: I'll give it a 4. It was happy and we know the characters are strong and prepared for the future. They have each other's backs and know how to find their way to Seattle Grace in a pinch. 
Christina: Initially, I gave it a 5. Now, I'd probably give it a 4.8. It was well done and we were able to see a last chapter that featured every character's newfound happiness. However, there were still missing essentials such as not seeing Henry and the other kids at all that really would have made a difference. I'm already missing Private Practice! Thanks for reading everyone!