Seaside Wellness and St. Ambrose have closed their doors for good. Tonight's spectacular series finale of Private Practice featured Addison finally getting her happily ever after.
Most of us have been watching since Grey's Anatomy and are simply thrilled that our girl, Addie, finally has the fairytale ending she so rightfully deserves with Jake and Henry (by the way: why was he MIA?!).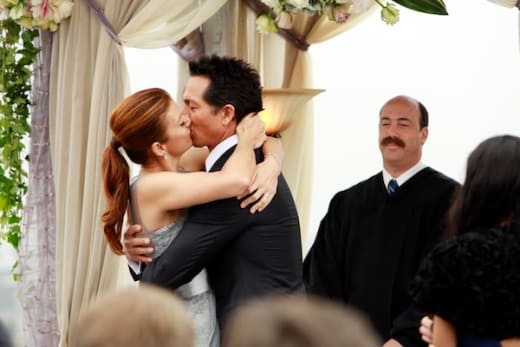 It's hard to believe that six seasons have come and gone. We've had an ample amount of time to prepare to say goodbye to our favorite doctors, yet, I found myself not entirely ready to do so since last week's strong showing of "Full Release."
Sure, the series has run its course and goodbyes are inevitable. However, it goes without saying that I'm going to sincerely miss Private Practice. From the acting of every single cast member to the storytelling that dared to always share the more difficult medical cases, I will always remember Addie and the gang for their sometimes chaotic and unpredictable everyday lives. I will especially not forget how they always found the time to help their patients in any way possible.
So, what went down on "In Which We Say Goodbye?" Did everyone else aside from Addie get their happy ending?
Violet helped Holly, a patient who been working with her for six years, come to terms with surviving an accident that killed both her parents and boyfriend. Holly, played by Sarah Ramos of Parenthood, wasn't quite ready to move on even when Violet said she was. After being accepted to a cooking school in Paris, Violet helped her to see that she would be just fine.
Meanwhile, Sheldon's storyline with Miranda was heartbreaking. As her health continued to deteriorate, she wanted Sheldon to walk away. That wasn't going to happen, though, as we all know the type of guy Sheldon truly is. Although the circumstances were not the best for him, it was nice to finally see that he found love after all this time.
With Cooper taking on a new role as a stay-at-home father, he was struggling with the "synchronized pooping" and more amongst all of the triplets. It's no surprise that he wanted and needed a nanny. The Freedmans were doing just incredibly well with big brother Mason to help out, and the proud parents were as happy as ever.
The single person who shed some unhappy tears was Stephanie. Sam ended their relationship again after realizing that he was still in love with Naomi. Did you see this one coming? The two actually hooked up during Addison and Jake's wedding, got married and are expecting another child. I thought Sam was totally against having kids again, but I guess things are different when it comes to his one true love.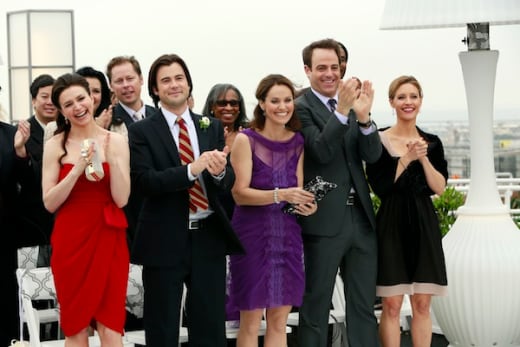 Other Thoughts:
I'm so glad that Audra McDonald returned for this special farewell. It wouldn't have been the same without her and it made sense to have her by Addison's side.
I actually thought of Pete as well and wished that he had gotten some sort of mention.
How awesome was Sheldon in the scene where he confronted Miranda? He quit his job and gave one heck of a speech to Miranda as he professed his love and said there was no chance he was walking away.
I couldn't help but snicker as Naomi had to have some chocolate as she was feeling just a bit antsy with Sam.
Amelia looked so blissful with James throughout the entire installment. Good for her!
Perhaps my most favorite scene was the very last one right before the elevator door closed. I thought it was very fitting for Violet's book to be called Private Practice, and I loved the way the practice ended with almost everyone (as Sheldon was with Miranda on the beach)laughing and joking around with one another one last time.
Overall, the final chapter was bittersweet. While most series end on a final note, it was refreshing to see that the practice would still go on and the characters would continue to move forward and be just fine with their lives. Similar to a fairytale ending, every single character will seemingly come close to living happily ever after.
Well, TV Fanatics, it's been a pleasure. Thanks for reading and be sure to share your final thoughts on the Private Practice series finale now. Also, don't forget to return later this week when we will meet one last time in the Private Practice Round Table.