Emotions were flying on The Lying Game this week, and while some were falling in love, others were getting their hearts broken. Whether it's the quadrangle of Ethan, Sutton, Emma and Thayer... or the triangle Laurel, Jordan and Mads... love is in the air!
It was unexpected, but I like Jordan. You'd think having spent any time under the same roof as Rebecca would have tarnished him in some way, but he's a cool guy. Sutton almost got herself into a sticky situation by visiting Ethan when Jordan visited because he mistook her for Emma. I'd like to know how it's going to work with Sutton being Ms. Honest.
How long does she think it will take before someone sees both she and Emma at two different places at the same time? They barely see each other, let alone have debriefing time to get their stories straight.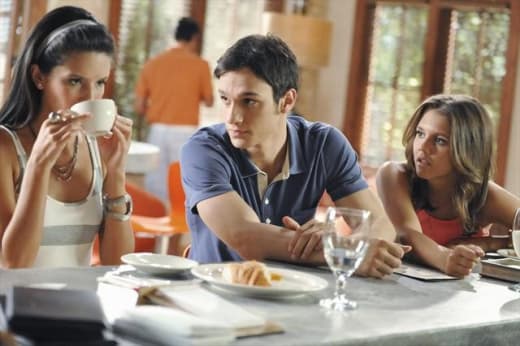 Even Rebecca repeatedly told Sutton to stay in the cabin... to no avail. Of course, she's also telling her things like "the only man needing seducing is Ted," so Rebecca isn't necessarily in her right mind when it comes to her daughter. For more poetic gems like that, check out The Lying Game quotes section.
Rebecca really wants Jordan to get to know Laurel, for her own nefarious reasons of course, but I would really like to see them happen. From what I've read, Mads and Jordan are supposed to become somewhat of an item, but he seems to like Laurel almost as much as his stepmother wants him to. Even he seems confused, poor guy. It's a conundrum because I like both girls. Mads has more self confidence and resources, however, and will probably be able to find a guy sooner than Laurel.
Even though Jordan and Laurel getting together would help Rebecca with her agenda, I think they would be sweet enough to make the drama worth it. What's even more distressing about the situation overall is that Mads is living with the Mercers, so no matter which girl Jordan chooses, one of them living under that roof will probably feel icky watching the other one date Jordan.
That last scene on "Cheat, Play, Love" with Mads, Laurel and Emma on the bed talking about Jordan was testing the ick factor already! At least Laurel had an amazeballs night, right?
Was it just me or did Sutton have a look of unease on her face when she was talking about Kristin with Rebecca? As much as Sutton pretends that she hates everything about the family that raised her, from what we've seen with how they are with Emma, there had to be some loving times. Sutton has to have some misgivings when Rebecca says she has spent the last 17 years planning how she would deal with Kristin so she could get back the amazing relationship she had with Ted.
Even though Sutton didn't fall far from the genetic Rebecca tree, as we can tell with the way she deals with Emma and Ethan, socially she was raised by good people and I don't believe some of it didn't rub off, at least a little bit. Then again, she was a class A idiot when it came to giving Ethan a paper to turn in as his own. When it comes right down to it, maybe she really does live in LALA land.
Sutton just wants to push her foot to the floor and drive as fast as she can in every situation. She rarely takes time to stop and think, and it's pretty easy to imagine someone would want to kill her. Maybe the whole murder mystery is just someone who finds her incredibly annoying. But I haven't even been cast on the show yet. Hmmmm. The one thing I can count on is that whatever I would do, Sutton does the opposite.
As far as that murder stuff goes, I'm totally lost with regard to Alec and Mads, Thayer and the twins. Alec and Thayer have always had a tenuous relationship, but I can't figure out what he will gain by tearing the group apart. He should be working to bring Thayer and Emma to his side so he has allies. He has so few that he could use all he can get. Sending his own kids in two different directions doesn't make sense.
I could understand if he knew something about who really killed Derek, but if he did, he'd be out of jail by now. He's struggling to figure things out as he goes and now he has to do it from behind bars. That give him a lot of time to think and all he has come up with so far is to rip apart the three people who might be able to work together to stop Rebecca from crushing him?
It was especially sad to find out Thayer isn't Alec's real son and that he chose to stay with Alec and his sister instead of leaving with his real parents when he was 12 yeas old. That's so much for a kid to bear, let alone to have it held over their head years later. If nothing else comes from this Rebecca fiasco, I was kind of hoping it would bring Rybaks closer. It doesn't seem like that's going to happen. At least Mads didn't seem as angry by the end of the night.
We learned a whole lot of nothing, other than Rebecca doesn't taint everything she touches. If what we know of Jordan so far is any indication, Sutton might even benefit from knowing her. Come to think of it, that's pretty big news.
What did you think of the developments this week? Share your thoughts in the comments and chat about all the other things that didn't make the review!
Carissa Pavlica is the managing editor and a staff writer and critic for TV Fanatic. She's a member of the Critic's Choice Association, enjoys mentoring writers, cats, and passionately discussing the nuances of television and film. Follow her on Twitter and email her here at TV Fanatic.